sort by best latest
The more helpers you have, the easier it will be. Have at least 1 to 2 people per table and 2-4 runners. The servers need to be skilled and the runners can be less skilled (cheaper pay). Think of the way a restaurant is run, you have a hostess, servers, and busboys. Have them all dress the same. Their uniforms need to match the formality of the event. If black tie, you may consider having them wear white gloves too...very impressive.
You are basically setting up a temporary restaurant. As far as equipment, that depends on the kind of food you are serving. If hot, you will need chafing dishes. If cold, you may need ice. Bring extra extension cords. Lots of serving utensils. Good luck!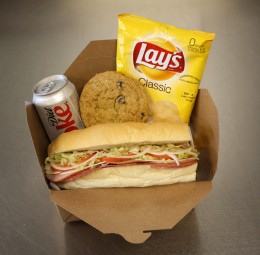 Have you considered doing a box lunch type catering.
Typically a box lunch contains a sandwich, chips, fruit, and a dessert. In the photo the dessert is a homemade cookie. You will want to wrap all items like cookies with plastic wrap to insure a good sanitary practice.
1. Roast beef
2. Turkey
3. Ham
4. Egg Salad
5. Tuna salad
6. Chicken
7. Chicken Salad
There are some great sandwich ideals and in the summer you could include homemade tomato sandwiches for a vegetarian sandwich if you needed those.
I think you will find that a lot of people like box lunches and you can easily do them in a lunch size paper bag. A canned cold drink can be given out with each box lunch. Make your boxed lunches special by adding homemade chocolate chip cookies to them and two dill spears wrapped in plastic. You can even let everyone choose what type of sandwich they want and write each persons name on their bag. I have found that people just love a high quality box lunch and you can do them very well in lunch bags.
Kids especially like lunches like this especially when a coloring page and a small box of crayons are included in each child's box lunch.
There are number of modern equipments available in market now a days, amongst them essential things are Electrical equipments, Cookware & tableware equipments, Clothing & food safety and most important one experienced staff to handle them. I never forget service R Hyde-Chambers Independent Family Funeral Service, they have categorized all this things in a proper way...
50 people actually isn't that many.
Have one person per table, and one runner, and yourself. Train your helpers so ideally you won't need to do anything (you'll be busy anyway, even if everything is running smoothly).
I would set one table up for drinks only. One table set up with savory finger foods, and maybe one set up for desserts (depending on if that is appropriate). If the organizer prefers you can always make sure there is a little of everything on each table, but for ease for the runner and the people helping at the tables it's ideal if the food is separated.
(TABLE TWO NEEDS MORE STUFF! HELP! - the runner automatically knows s/he should get some more punch and wine)
If it is a fancy party, be sure not to include easy to spill sauces that could stain someone's suit or dress.
For equipment:
*table cloths
*serving trays
*small plates. Utensils such as toothpicks and forks, as necessary.
*Depending on what you are serving, you will need either hot or cold trays to keep the food safe.
*cleaning equipment for the spills that may happen (a guest will feel less embarrassed if the caterer can quickly make the spill disappear)
Good question! And good answers. This has been very helpful. I've been researching catering a lot, and while the actual catering websites (like this one http://freshcrust.com/catering/ ) are good, this post was super helpful. Thank you all!