sort by best latest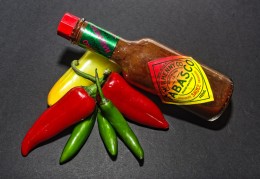 Hmmm - don't have one -but I do have a CLASSIC joke about a Texas Chili Cookoff Contest! It will make your eyes cry from laughing and has inspired me to make "Honolulu Habanero Venomous Vodka"
Joke here:
http://www.freerepublic.com/focus/fr/544975/posts
Habanero Vodka drinkers here:
This is a great tasting recipe I hope you enjoy it. 5 pounds coarsely ground heavy beef chuck, round or brisket. 1/4 cup wesson oil or rendered kidney suet. 2 medium onions 5 level teaspoons of Cumin seeds 8 heaping tablespoons of commercial chili...
keep reading →
|
1 comment
Here is a nice Texas Beanless Chili recipe from a native Texan.
3 pounds boneless chuck cut into 1" chunks
2 tablespoons fat
3 tablespoons chili powder
3 tablespoons flour
2 teaspoons ground cumin
1 tablespoon dried oregano
1 tablespoon minced garlic
1 teaspoon salt
1 teaspoon ground black pepper
2 14oz cans beef broth
1 6oz can tomato paste
Directions
In a large skillet, heat the fat to medium high heat. Add beef and brown.
Add Garlic
Combine chili powder, cumin, oregano, salt and pepper and the flour in a bowl. Sprinkle the spices over the meat and stir until all of the beef is coated. Add the cans of the beef broth and tomato paste.
Stir the chili mixture thoroughly and bring to a boil. Reduce the heat to low, cover partially, and let chili simmer for 90 minutes, stirring occasionally. The meat will break apart as it cooks.
Remove from heat and enjoy.