sort by best latest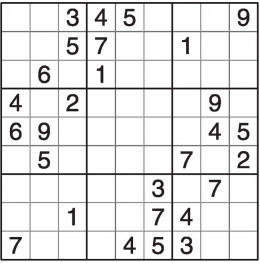 I love love love sudoku!
As you can see, the grid is 9x9, divided into nine 3x3 squares. Each of these smaller 3x3 squares makes up a grid of nine spaces. Each space is to hold a different number, 1-9. No number can repeat in these 3x3 grids.
If you're looking at the whole 9x9 grid, there are of course columns and rows. Each row can hold a number, 1-9, and cannot repeat. Each Column can hold a number, 1-9 and cannot repeat. So you have a puzzle where you look at the 3x3 grid, the whole columns and rows in order to logically place each number in the puzzle. The end result should have 9 occurrences of each digit - nine 1's, nine 2's, nine 3's and so on.
There is no math to it. I have a lot of friends who are intimidated by it because it uses numbers. But they could easily be replaced with other things, such as colors, letters, animals, whatever - so long as there are 9 different characters to be used. It's simply logic and puzzle solving.
For example, the image below:
If we label the top three 3x3 boxes, A, B, and C, from left to right, and continue with the next row of boxes, labeling them D, E and F, and then the bottom row, G, H, and I. The middle 3x3 box, E, has no numbers in it. So it needs one of each. Do not be daunted by this! There is not enough information to give us a 1 to put in there, nore a 2, or 3 - but a 4 we can figure out! Going from left to right, column 4 has a 4, which means the first column in box E cannot have a 4. If looking along the bottom of the whole puzzle, column 5 has a 4, which means the second column of box E cannot have a 4. This means only the last column of box E is allowed a 4. Going from top to bottom of the whole puzzle, row 4 has a 4, which means that the first row of box E cannot have a 4. Row 5 of the entire puzzle has a 4, which means that the second row of Box E cannot have a four. That leaves only one row left that can have a 4 within the box, which is row three. Combining what we know of each column and row, it only leaves us with the bottom right square which can have a 4 in it (the i box of the E box). You can write this in.
If you follow the golden rule of NEVER GUESSING, then you can do this entire puzzle in pen.
I hope that was helpful!
I agree that ThompsonPen's answer is very good and thorough. I would like to add that there are several variations of the basic Sudoku puzzle, including those that use nine letters or pictures (icons, for example) instead of the digits 1-9.
Some Sudoku puzzles use a different size grid (6x6; 16x16); some require using each digit exactly once on the long diagonals in addition to the boxes, columns, and rows ("Extreme Sudoku"); and some use irregularly-shaped regions or boxes, rather than the regular, symmetrical 3x3 boxes of the standard puzzle.
Several Hubbers (in addition to myself) have posted articles about Sudoku, including tips on how to solve them. The tips I give are best suited for puzzle-solvers who have some of the basic skills, but who would like to learn skills to move up a level; but my tips are not at all for the advanced solver.
I have also posted several videos on YouTube demonstrating how to work a Sudoku puzzle from start to finish, but with only a little explanation of each move. I'm working on a video now that demonstrates working a Puzzle (irregular region) Sudoku, and I hope to post it fairly soon.