sort by best latest
Best Answer xkamronx says
Not sure if you wanted us to answer or not, but here goes!
Yes and no, depending on how you look at a pentagon.
-Traditional pentagon, then no.
It is impossible to make a conforming pentagon out of equilateral triangles at all, due to angles required to form the pentagon, the triangles would not be equilateral.
-Any 5 sided polygon, then yes.
If you put the two triangles together so that the points touch, and two of their sides make a straight line, you will get a 5 sided polygon.
Initially I misread this question, thinking that you wanted us to form a *regular* pentagon from equilateral triangles, and I really struggled to figure out a solution before concluding that it was impossible.
I do see a way to form a pentagon shape from lines that cross when one equilateral triangle is overlaid on another one. I don't mean that the entire surface of each triangle is incorporated in the pentagon, though.
The easiest way to explain it without a picture (which I am unable to provide at the moment) is to begin with a six-pointed star - a Star of David - composed of two equilateral triangles. Shrink one of the large triangles proportionally until its apex lies on the midpoint of the other triangle's base. That will leave a figure of two overlapping equilateral triangles with five smaller triangles extending beyond the five sides of an irregular pentagon, formed within the two large triangles.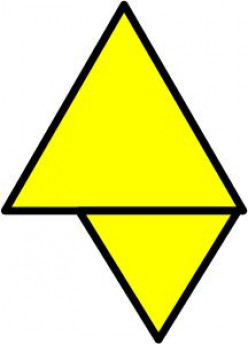 Yes, very easily. Take any two equilateral triangles of different sizes and place them so that one point and the full length of the smaller triangle, bu only part of the length of the side of the larger triangle. This forms an irregular pentagon - just count the outside lines of the yellow image in the figure.