sort by best latest
NES. Epic. Before that we'd only played Comadore 64 and Vic 20 games, so it was a revelation!
I remember it well! It was the original 8-bit Nintendo.
The first was actually Pong, if you want to call that a game console. The first "real" one was Colecovision. I got it, against the better judgement of my wife (she wanted to buy other stuff, like groceries), when the kids were small. I rationalized that it would help the kids develop hand/eye coordination. As a backup rationalization, I bought the Smurf game, which won her heart. Our favorite game was Zaxxon. I never really got into gaming after that, and neither did the kids, although one son has a Wii.
It was the Odyssey. I think we got it second hand from a friend of my dad's. I don't remember the name of any of the games, but one was a guy with a pickaxe, another was a racing game and one might have had tanks in it. We didn't play it very much, but I'm sure at the time it was state-of-the-art. :)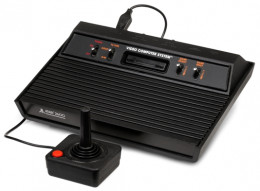 Atari 2600. I had games like Donkey Kong Jr., Combat, Pac-Man, and a few others.
After that, the NES and the SNES were the ones that really got me hooked. Then I jumped off the video game wagon.
My first game system was the Atari. I had Jungle Hunt, Pacman, and Frogger.
My very first was the Super Nintendo Entertainment System, and if I were to find one relatively cheap with some games I'd buy it without a second thought. After that it was the PS1 and in terms of quality I've not looked back. But the oldest console I've owned is an assortment old Pong machines some years back. Ever since I've watched the Angry Video Game Nerd I knew I've wanted to review and collect older gaming machines and games.