sort by best latest
vegetarians definitely live longer and healthier (studies of seventh day adventisits in the 80'd). production of veg foods is easier on the environment than meat production. veg food production is also more efficient, so more hungry folks can eat off the same amount of land than if meat were produced. and of course, it sure is easier on the creatures with faces we now consume.
drawback is it's hard to get your B12 as a vegan, so this must be supplemented. the most potent omega-3's are also fish-based, so you might want to consider two wild salmon meals per week to get your share of the proven omega-3's.
cons: having to justify your choices to random human beings who suddenly decide they are an expert on nutrition, despite being unhealthy, inactive and out of shape themselves.
"Actually I know exactly how much protein I am getting, but thanks for your concern all the same".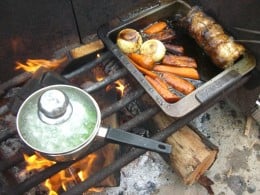 The bad thing about it is no enjoying a beautiful roast lamb/pork - No savouring the taste of a delicious t bone or rump steak or crispy bacon with your eggs for breakfast /
On the + side you would save some money !
A roast without the meat isn't quite the same even when the vegies taste good !