sort by best latest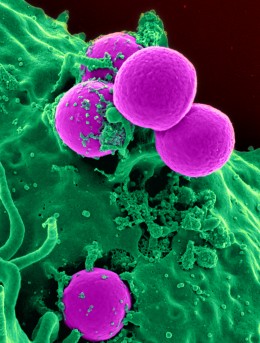 Yes. I've seen quite a few persons of my close ones to be infected with MSRA. And many of them have been cured. The main problem of being infected with MRSA is the lack of proper knowledge and how to deal with it. I therefore think that it will be better to discuss the different symptoms of MSRA and how to treat it. Here we go.
Symptoms
First we will go with the symptoms. Mainly the symptoms depend on the body part that is infected. The infected area will be:
1. Red.
2. Painful.
3. Very hot to touch.
4. Inflamed.
Below are a few signs of the serious MSRA infection in blood and tissues are as follows:
1. 100 degree or more fever.
2. Malaise.
3. Confusion.
4. Dizziness.
5. Cough.
6. Chest pains.
7. Headache.
8. Rash.
Here are a few effective treatment methods for MRSA:
1. Use of tetracycline drugs.
2. Clindamycin.
3. Linezolid.
4. Rifampin.
Also some research suggests that some specific probiotic strains can be effective to reduce the susceptibility to MSRA. We should adopt all these measures in order to treat MSRA properly. Then we will be able to lead a happy life.
Yes, I'm a nurse so have seen it and cared for many patients with it. The treatment is antibiotic therapy. It can be eradicated.
Yes, my uncle; he went into hospital with a kidney infection and died there from the MRSA bug. He was 86 but of a strong constitution and was not at risk of dying from the kidney infection; a sad loss of an alert, kind, generous and very clever man. The treatment he had was solely for the kidney infection; it was only the post mortem that picked up the MRSA and the hospital were not open about it at all at the time. Only when his sons made a fuss did the hospital acknowledge it. They also neglected to inform the sons that he was sinking fast, even though one son worked on the premises at the time! Neither son was able to be at his side when he died due to the hospital's lack of communication.
A younger cousin had a MRSA infection last year. They did get rid of it, but it involved intensive and extended antibiotic therapy, as Dubuqedogtrainer mentioned. I believe they might have also surgically removed a portion of the infected flesh.
He's a diabetic (Type I) and a paraplegic, which added complications. Part of the reason the infection got as bad as it did was that it was in his leg, and he couldn't feel any pain. So it took longer than it might have otherwise for him to realize how bad it was and seek medical help.
When my dog was neutered, he got an infection and licked the area. It spread to my legs when he licked my legs after I'd shaved and put lotion on. I got antibiotics and they seemed to help some, but then the infection hadn't gone away completely. I realized that it was the same antibiotics that my dog took. I started putting tea tree oil on my legs and the infection went away quickly. I've found that tea tree oil is a wonderful antibiotic.