sort by best latest
History shows that the average family size was 7 children before birth control was invented (based on statistics from 1800-1990). However, that does mean that if you choose not to use birth control, you will have that many children. Natural Family Planning couples, for example, have 3 children on average, with 18% having 4 children.
Also, women did not use to have children spaced so close together before the use of formula. Breastfeeding, specifically ecological breastfeeding, has been proven to space pregnancies effectively, the average length of infertility after birth being 14.6 months.
Natural family planning allows women to identify her fertile days each month, allowing couples to avoid intercourse if they do not wish to have a child. It is not birth control. It is over 98% effective, based 100% on science and a completely safe and moral alternative to birth control.
Even couples in 3rd world countries can practice NFP to avoid pregnancy. It is completely free and requires no electricity. If tomorrow our whole society collapsed, women could still effectively space and limit their family size.
I have written several articles on NFP and ecological breastfeeding if you are interesting in learning more.
I think you just have to look at the Duggards from that 19 (or is it 20) Kids and Counting show :o)
I like the comment from mommygonebonkers. The duggards defiantly have a lot of children. although If a woman never took birth control she could have no children at all because it could be that she can't have children. This use to be very rare cases but not so much anymore.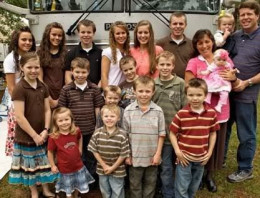 Michelle Duggar & other megamoms are examples of how many children women would have if they did not use birth control. However, if the average woman did not use birth control, the number of children could vary depending upon the woman's level of fertility. Some women would have 0-4 children, most women would have on the average 7 children, & a few would have upwards of ten to the twenties.