sort by best latest
I would quite alcohol. Where I can function without alcohol, my morning is much harder when I don't have my coffee. Also, I have a tendency to make an ass of myself when I drink. It would not only allow me to lose more weight, but not have to spend time explaining to my grandmother (who thinks I am a hysterical when I am drunk) the stupid things I do when drunk.
I'd have to say alcohol. I could actually take it or leave it. I've noticed as I've gotten older I don't really drink much anyway.
As for the coffee, I'd hate to have to give it up. Not only do I like it, but being asthmatic caffeine acts as a bronchial dilator if I feel tightness coming on.
I drink very little of both but if I had to totally give up one it would be alcohol. Most of my college years are a haze because of alcohol and I'd have no problem if it never touched my lips again.
I have no problem at all going without alcohol, but I find it very hard to go even one day without coffee.
I know wine is good for you when taken like I take it, in very rare doses. My grandparents are in their late 90s and still have their red wine with dinner. Coffee, on the other hand, I can do without. It stains my teeth, isn't particularly healthy at all because it dehydrates the body, so when I drink coffee, I always have to double up on my water intake. I've done without coffee many times before and replaced it with teas, so I'm okay without it. I will keep my vino blanco, thank you very much.
As much as I enjoy my wine or a good beer, I would give them up before I would let go of my coffee1 Whether hot or iced, coffee is a favorite beverage!
I would quit alcohol. I don't consider a little bit of caffeine to be that bad.
Alcohol! Caffeine has its pluses and minuses, but alcohol has more negative factors in long term consumptions health wise.
Tycoon sam.....this is a no-brainer and you know it. The only sane and rational answer should be alcohol....which I don't drink anyway. ZERO! I would never give up my coffee....for any reason I can think of.
Alcohol is very unhealthy (when done to extreme)...causes sickness, death (DWI), divorce, domestic violence, diseased livers, premature aging, numbs the senses, dulls the brain, birth defects and in general doesn't improve one's popularity or appearance.... Drunks just look, talk and act stupid.....mean, obnoxious and uncoordinated.
Not a single one of these lovely things can be attributed to caffeine!
Great answer and You know what you like although I did read a hub on the benefits of drinking Wine and Beer...in moderation of course.

---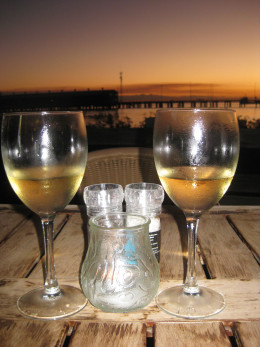 At this point in time coffee as I also enjoy a cup of tea in the morning . I would miss having a glass of Chardonay with my meals or on a picnic /special occasionor a cold rum & coke with ice & lemon .
Coffee is just one drink but alcohol covers a whole range to miss out on.
I would quit alcohol. I found nothing to do with alcohol. I'm addicted to caffeine, and quitting it is just out of the question.