sort by best latest
if it is insulin specifically that you are wanting measured there is a specific test for that/usually goes along with trying to diagnose acute or chronic hypoglycemia.The insulin test measures the amount of the hormone from the pancreas,that hormone is insulin.Insulin regulates your blood sugar.Everything you eat turns into sugar,thats what your body uses for fuel.Further,insulin makes sure that sugar levels stay within normal range.So, if there is a problem with blood sugar levels, thats when the insulin test is used. And, usually it is only used to determine if a person is having a problem acute(right this second and an emergency) or chronic (just keeps on day after day) with hypoglycemia (low blood sugar).
Of course, having said that, the insulin test is also used when a person with type 2 diabetes has been on oral antidiabetic meds (like glipizide) should now start taking insulin by injection.Good question!
If you have diabetes then a blood glucose meter is whatT is used. If yo are not and suspect you may be then talk to the family doctor who will order the appropriate tests.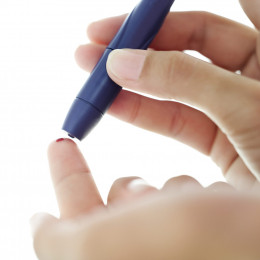 Blood glucose. If you are experiencing any of the symptoms of diabetes, or hypoglycemia, it is best to consult a doctor about your condition. Among the symptoms include excessive thirst, inability for sores to heal, excessive sweating, dizziness, anxiety (usually when its low),a lessened ability to taste "sweet" things.
For an indepth discussion, and helpful supplements, after confirming the diagnosis:
http://hubpages.com/health/Natural-Treatments-for-...
Curcumin, and alpha lopoic acid are the two most helpful supplements in this disease. Discuss the use of these supplements with your doctor, as using them along with medication, may in fact lower glucose levels too much. i hope this helps to answer your question.