sort by best latest
We have private health care. The insurance my children have from their father is going to have a $500 deductible come 2014. They've always had a deductible, but it was at least half of that and only one child had to meet it for the year. Now, it's per child.
In addition, they will now have a co-insurance (which is a percentage of the bill) instead of a co-pay (which was a flat $15 fee).
Yeah, this is not helpful to us at all.
But, I have a friend who chose to quit her job because she didn't want to be a biologist any more, and refuses to get a different job because she won't settle for $100,000 as a pharm tech. No, I'm being totally honest here. She says Obamacare will help her a lot so she doesn't have to find a job just for benefits.
That's what she told me. I think that scenario is totally obscene.
While I'm thankful for all we have, we were practically bankrupt from our medical expenses in the past two years. We have to pay for things insurance doesn't cover. I've always been a supporter for a "welfare" type system for people who have nothing. Don't get me wrong. But I know a person who plays the system very well. She cheats the government out of every cent she can because she has learned to play it well. That's not fair to the people who truly need the help.
You realize that taxpayers have been paying for birth control and mammograms for well over 10 years ATLEAST for anyone who doesn't make enough money to afford them. This is nothing new. Do you really believe people who can't pay for insurance just don't want to?
I should also add, since gwilliams mentioned it. The only medicaid offered to poor people over the age of 21 that aren't pregnant has always been two types. One that covers birth control and women's health (pap's and mammograms and such) and another type of medicaid that covers people diagnosed with things like cancer. This last type is the type those who collect disability. Anyone with a life threatening or debilitating illness gets it.
The issues with this system are plentiful. Firstly, men almost never get any form of medicaid. They get sick and can't afford to go to the doctor they just suffer it out. The reality is the current medicaid system is very sexist.
I must ask, what do people do who are poor and require surgery? My local hospital refuses to do payment plans on surgery without a 30% down payment. So what happens for someone who needs surgery but can't afford to put out 30%? I'll tell you what they do. They suffer, often losing jobs because of their pain. The result? Their families do without, their children suffer, and they feel helpless. What is your suggestion to these people? Go off in a corner and die? Your taxes are going to go somewhere, why not to help those in more need than you since you have it all figured out?
That comment about men and Medicaid hit home. My grandfather is dying of pancreatic cancer. Every six months for the past 2 years he had to go for a stent replacement at the cost of $27,000. He had to pay thousands out of pocket.

---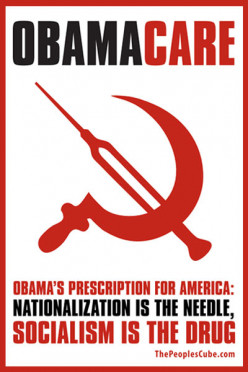 Obama"care" is going to be a disaster. Smart people KNOW this. Our present health care was fine the way it was. I have my own, private insurance. Fortunately, I DO NOT need Obama"care". Obama"care" is socialized health care to the ultimate. Why should we carry others regarding health care? This is totally inane to say the least.
Before the institution of Obama"care", poor people had health care either through Medicaid or through arrangement with hospitals. There are also free clinics. Obama"care" is going to further exacerbate the current socioeconomic malaise in America. Obama"care" is the American black hole!
It is the intention of President Obama to create a full, welfare state. This is apparent in his "social" policies. Have you noticed that he has raised the debt ceiling? Apparently, improving the economy is on the bottom as far as he is concerned. The economy be doomed is his premise. He want the social programs to go into effect although these social programs will further peril the economy in one way or another!
Do they still have planned parenthood? I remember them talking about de-funding that a while back but didn't follow the outcome. I always thought they did a good job, especially with teens.

---