sort by best latest
1. don't give up
2. your old boss doesn't know you are the treasure
3. its your old boss mistake
4. Relax, don't rush to find a new job.
5. You should take a rest after working for so many donkey years
6. It is not your fault
7. you are a capable person
8. you will find a better job with better pay
9. you are a diligent employee
10. Be your own boss, nobody can fire you now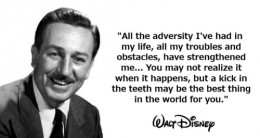 Do not abandon your passion. Keep to your true passion.
Steve Jobs was fired from the company that he co-founded. He moved on and formed Pixar...
Bill Gates didn't seem like a shoe-in for success after dropping out of Harvard and starting a failed first business with Microsoft co-founder Paul Allen called Traf-O-Data. While this early idea didn't work, Gates' later work did, creating the global empire that is Microsoft.
Harland David Sanders: Perhaps better known as Colonel Sanders of Kentucky Fried Chicken fame, Sanders had a hard time selling his chicken at first. In fact, his famous secret chicken recipe was rejected 1,009 times before a restaurant accepted it.
Walt Disney: Today Disney rakes in billions from merchandise, movies and theme parks around the world, but Walt Disney himself had a bit of a rough start. He was fired by a newspaper editor because, "he lacked imagination and had no good ideas." After that, Disney started a number of businesses that didn't last too long and ended with bankruptcy and failure. He kept plugging along, however, and eventually found a recipe for success that worked.
out with the old and in with the New ! You could be fired ,but hired to a better position ! A better opportunity ! Some times doors close for you to enter a new one. Look at it as an past experience that will maker you wiser for your next ! Take the good you got from it and leave the rest behind.
Even if that means the people ,so you can move on .