sort by best latest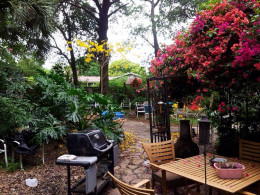 Since indeed, this question assumes you have a healthcare problem or chronic illness that can be cared for either at home or in a facility with equal effectiveness. Then I must side with home.
Our peaceful and tranquil home may indeed be ideal for recovery and beyond. It is primarily quiet and steeped in good air somewhat filtered by our trees and shrubs. I find that my Belgian Malinois (dog) is both a natural therapy dog and an inexpensive physical therapist assistant. My Better-Half Neo-Nazi Nutritionist would maximize my diet for recovery and would ensure I have my fill of both Matzaball chicken soup and every vital-vitamin vehemently under our vapor barrier. Our backyard patio (above) paired with some good espresso and the comprehension of some of our books would indeed provide the catalyst for minimization of absence from my office of profession.
Indeed, after extraordinary stabilization and recovery from a natural comatose experience of 1 month at Florida Hospital I continued my recovery at our peaceful home during the summer of a past year, before returning to the hockey-ice in mid-August and to my college...
I would rather be in my home as opposed to having to share a room with someone, being on a floor with several other patients who are in varying stages of physical and mental illness
Some may even be experiencing bowel and urinary incontinence, periodically crying, roaming the halls in a daze, or lined up in the hallway passed out in wheelchairs drooling from their open mouths....etc Watching or hearing about people dying around you.
A loss of independence concerning the basics can cause one to want to die. Depression is very high in the best of nursing homes.
God help if you if the CNAs are un-attentive leaving patients in soiled bed sheets for long periods of time, not turning them which causes bed sores, not making sure they are getting their intake of liquids. There are a lot of instances of dehydration.
Unfortunately in the U.S. it takes having significant wealth to have around the clock care at home. A lot of folks assume their adult children will take care of them in their old age.
However visit any nursing home and you will find that 80% or more of the patients have adult children!
They're working full-time jobs to make ends meet, raising children, and lack the skills or patience to change adult diapers, give baths, lotion bodies, dress, manually feed meals, and ensure all medications are taken at the proper time.
Who is to say even if your offspring were "well off" financially they'd be willing to change their lives in order to accommodate their ill parents. Most likely they'd put you in a "upscale" nursing home!:)