sort by best latest
My wife and I are both on CPAP and have been for years. I have been on it at least 20 years and can't sleep without it. My wife also for less time but she can sleep without it. I don't like her to because she has the type of apnea where you exhale and "forget" to inhale again. I would lay awake counting between her last exhale and count over a minute sometimes. I would shake awake and tell her to breathe. It is the more dangerous of the types of apnea.
I have the type where I will lag my breaths and then wake up over and over to breathe. At the time of my sleep study I was waking up over 450 times in that four hour period that they were monitoring me. It is a miraculous machine for both of us. We have never tried the smaller things and after all the years we have been on the machines, I don't believe there will be a time we can get off them. And we had lost much weight and still the apnea was there in both of our cases weight loss had no effect in stopping the apnea.
Hi Robert, My husband has been on the regular CPAC machine for years too, but is bad about not using it all the time. It is cumbersome and I am used to the noise. I think he has the same kind apnea your wife has. That is why I wonder about the small

---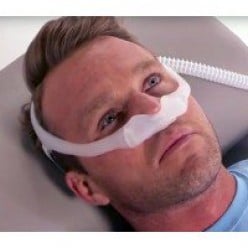 Good Question. I hear there is also a procedure now where they implant something that stimulates your muscles to keep the air path open. There is a clinical study also on something like that they are taking people for.
Try searching for some online reviews of products. https://www.google.com/webhp?sourceid=chrome-insta...
Whatever you do get your husband to experiment with what he has until he can comfortably use the machine because apnea may lead to heart disease, hypertension and various other complications. I know getting life insurance is a problem if you have sleep apnea.
There are various masks and different sizes so experimenting may lead to a satisfactory fit and it may take weeks to get used to using it but don't give up. Sleeping only on your side helps with or without the mask so get a pillow that helps him sleeping on his side. And sleep apnea often goes away if you can lose weight and get down to what is normal for your height.
I had a friend who used this device each night while sleeping due to her sleep apnea. She loved it but said that it was a bit noisy and it took her a month or two to get used to the noise of the machine...after that...lights out Zzzzzzzzzzzzzzzzzzzzzzzzzz She also was worried because it obstructed the noise in the house, fire alarm, doorbell, phone.
Hi JG, So does your friend use the new smaller device that fits inside your mouth? I do know how loud the old CPAC machine is. My husband sounds like Darth Vader breathing LOL.

---