sort by best latest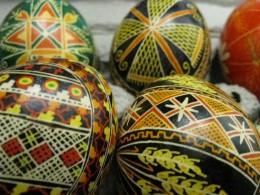 I want to make the easy 'cheater' way of using magic markers to make fancy looking eggs with fine lines and details but they would look like total crap compared to these Easter eggs that are over 60 years old from the Ukraine.
Some people like to make the eggs look like animals by using prints and adding additional additional parts, like feet, ears, etc.
Also, there are very detailed designs people can paint on eggs or even stickers you can put on them. Some people even use wooden eggs to use, they even use wax to cover them.
You could take some wire and make an egg, like a basket. OR you could just as easily paint eggs and put them in something you made, like a wheel out of wire or something of that kind.