sort by best latest
I colored a zombie "stained glass" picture in a zombie coloring book and framed it for my husband. We both love zombies, and it's a bride and groom zombie. It didn't cost a lost, but it looks awesome, and it will be a lot of fun to see his face on Christmas morning when he opens it up.
I gave a 50 pound bag of unpopped popcorn to a friend who really likes (Loves) popcorn, and a box full of about 20,000 rubber bands to a little boy who requested them for a rubber band ball that he's building.Then before wrapping the box of rubber bands, in the middle of all of those rubber bands I put a glass jar with washers inside of the jar. I then told the little boy that if he shook his present then he could tell what the present was from the sound coming from inside of the box. There's one catch though, and that is he can't open it until Christmas day :)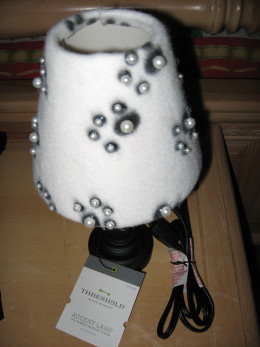 This year my daughter asked for items to redecorate her room in all black and white. I was able to find everything I needed on sale at Target but was missing a lamp. I found the perfect lamp size, but it was very plain. So I decided to decorate the lamp shade myself and found some pawprint, black and white fabric which I glued to the lamp shade and then glued little pearls to each of the paws. I find it unique since it will be one of a kind and fits her wish list perfectly.