sort by best latest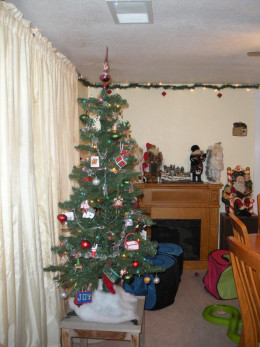 All kinds of decorations can be put up with those removable adhesive hooks. They come in all sizes, and the adhesive strips off easily without damage to paint or woodwork. That will keep the landlord happy, as you don't have to poke tack holes in the walls.
(They do caution, however against use on wallpaper.)
We re-did our kitchen and dining room a few years back, and even though it's our own home, we didn't exactly want to start poking all sorts of holes in our new paint job, so we use those hooks every year. We over-decorate with lights, garland, and all sorts of things hanging up, and never once a problem with a hook falling off or taking paint.
Refill adhesive strips are available where the hooks are sold.
When I first had an apartment, I could not afford a Christmas tree. Instead, I put Christmas lights and ornaments on the ficus tree I had as a houseplant.
other than the tree of course, i like lots of lights. surrounding the doors, windows and even wrapped around a lamp. i nice to wake up in the morning and christmas lights are everywhere.