sort by best latest
hi, Maryn!
Going from personal experience... I say absolutely yes, though I imagine it depends on whether or not your queen bed is a standard queen, and of course, whether or not the queen-size sheets are standard as well.
Full disclosure: I have a queen sized bed and a memory foam mattress, but before I went the whole nine yards with the memory foam, I owned a standard spring mattress with a memory foam topper that was about 3 inches thick.
I have to say the fitted sheet was a "little bit" tougher to put on than before, but it worked. And I got used to it, so by the third or fourth time I had to re-fit the fitted sheet, it was second nature. The covering sheets fit just fine, but I feel like those are usually designed to hang several inches past the mattress on either side, anyway.
Overall, I think you should have no problem using your current queen size sheets on a queen size mattress with a memory foam topper!
I hope you enjoy your topper... I know I loved mine! And maybe someday, you can upgrade to the full memory foam bed. Oh wow, so heavenly! :D
I hope this helps.
MarynJay -
Its going to depend on a couple things. First the size of your bed to start with before the mattress topper. Some beds have a pillow top that take some extra space.
Then the sheets you buy. I know it sounds crazy but not all sheets are going to fit the same, ESPECIALLY after a wash. Different makers use different cutting lines.
Unfortunately the alternative would be to buy King Size sheets and have all the extra fabric.
So here's what I'd do:
Go to a store you trust, Bed Bath and Beyond, Pottery Barn, Target, wherever and buy 1 queen fitted sheet from 3 different manufactures. Then just try them all out, and take back the losers.
Make sure you get ones that are pre-washed. If all else fails you can get straps that go under the mattress that grab opposing side of the bed to make sure the sheet stays put. We have a king and I toss and turn the sheets of the corners just about every night, so they are a necessity at my house!
Good luck!!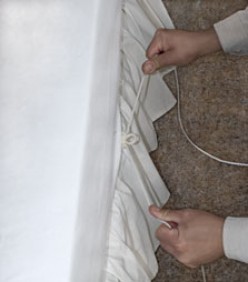 Yes, a queen is a queen. The problem is the depth. If the sheet is too shallow it will not cover both the topper and the mattress. The main problem is that, no matter what, the sheets will still be loose. There are the new drawstring sheets now available. With the drawstring the sheet is pulled tight and will stop the toppers from shifting around on you. Check them out here: