sort by best latest
I worked as a seasonal worker for Wall-mart from 7:30pm Thursday to 6:30am Friday so I didn't get to go "Black Friday" shopping however I did get to experience the the event. Some people really make a party of it!
We are hoping to have our Thanksgiving dinner some time this weekend.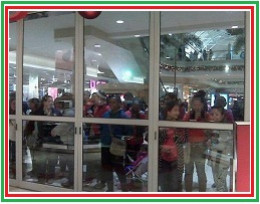 I did my usual tradition and picked up a "real" Christmas Tree at HOME DEPOT. A Douglas Fir (7') for about $40.00. Then a Christmas Wreath for about $15.00 and that was about it.
Black Friday is the one day I prefer NOT to shop. People are rude, retailers are greedy, and the employees are usually shitty because they have to work on such a CHAOTIC day.
I wrote a HUB about "Black Friday", if you'd like to check it out, please go to:
http://hubpages.com/money/Whats-the-Deal-with-Blac...
Personally, I'm not a BIG fan of Black Friday at all.