sort by best latest
Why villages, and why just roads, even trains (rail-roads) every where horrible management. No maintenance, No space for walkers, no rules. Congestion near stations,near entrance to villages cities, pollution, think of any problem and it is there. Most of it just because of management (in fact no management).
Some simple ideas can also change a lot of it and also bring a lot of employment. I wrote a an article some years back about local trains in Mumbai. How a co-ordinated effort about them could improve even road-congestion.
http://hubpages.com/politics/Mumbai-Local-trains...
I do not have means, but I feel like starting an NGO for cleaning India.
May be you think of writing an article also about these issues instead of just question.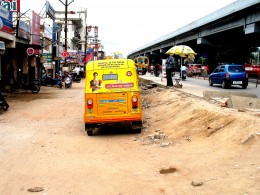 I want to add that TATA & VOLVO are not making road building machines but mining machines because Govt of India is not interested in making roads but keep talking.The Minister for Roads says that he cannot make 20 miles of road per day in the entire country.he must see the work done by LARSON & TURBO and others in NH 7 road from Bangalore to Hosur and Hosur to KRISHNAGIRI to CHENNAI AND COIMBATORE or must work in China under road construction workers.The Govt gives tax free bonds in many categories but not road building.State Govt's does not co operate with NHAI in their states.Tax is levied under multiple tax system for road builders.Govt cannot introduce the GST system of tax collection.There is no transparency in administrative process and land acquisition.THERE IS NO FDI IN THIS SECTOR BUT THEY ALLOW F D I to "WALMART" and " TYSCO ".