sort by best latest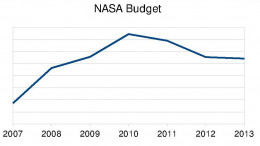 NASA budget is up under Obama..........................
From NASA Watch - "However, that break begins with some hard choices - most notably, the outright cancellation of The Constellation Program. Started shortly after President Bush announced his "Vision for Space Exploration" in 2004, Constellation was the umbrella activity for what eventually became development activities for the Ares launch vehicle family, the Orion crew module, and the Altair lunar lander. All of this now comes to a halt." http://nasawatch.com/archives/2010/02/obamas-plan-...
Every time we ask quaestions about Obama's destroying of America - we get the same old Liberal Kool Aid drinkers coming to his defense. I'm starting to think it is just a mere 3 or 4 of the same hubbers who actually support the Obamanation of our country. Great Question Cassie.
He did not unfund Nasa...That is an old wives tale. NASA still goes on...were you paying attention to what is going on on Mars?
Hellooooo! He stopped the constellation project and the shuttle mission. The Mars project is the tail end of a project that existed before Obama. Hellooooo!

---
1 answer hidden due to negative feedback. Show
1 answer hidden due to negative feedback. Hide