sort by best latest
Absolutely not. The submergence of individual rights into the rights of society is fascism, and few of us would argue that represents the good society. Like morals, rights are essentially individualistic, or they are fictions.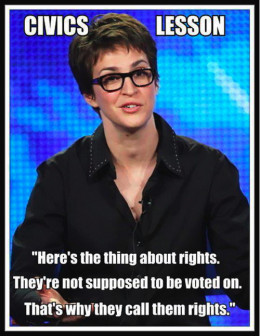 Absolutely not. Our constitution was set up to protect minorities against discrimination by the majority when it comes to protecting equal rights. That is why it is so very offensive when the equal rights of minorities such as the gay community are trying to be manipulated by the fanatical religious right.
Our forefathers have made provisions for the government not to interfere in religious beliefs, but those religious fanatics are still trying to push their narrow agendas onto minorities based on their ignorance - and without taxation!! That kind of behavior by religious is reprehensible, offensive,and must not be allowed to permeate our government for ALL the people.
1 answer hidden due to negative feedback. Show
1 answer hidden due to negative feedback. Hide