sort by best latest
Break laws? Since when did they show any respect for the law. The Obama Justice department picks and chooses what laws they want to enforce like taking a pass on the new black panthers racist violation of election laws the first time. In February 2011, Attorney General Eric Holder sent a letter to House Speaker John Boehner saying that the Obama administration would no longer defend the DOMA law -- in court. Holder lies to congress on fast n furious and then refuses to comply with supplying requested information. I could go on and on...but we all know this administration has no respect for the law and will fail to enforce it whenever it benefits them or fits their ideology.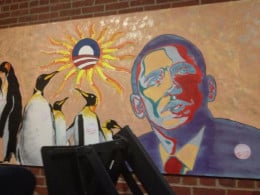 Here's another Obama mural in a DC polling station. Do Dems election officials really not know that an Obama mural is not allowed in a polling area or more likely it just seems like they DO want to influence the individuals' vote.
Nope... but I'm sure my mail-in-ballot went through hell getting to the registrar over the weekend ;) All that tossing and turning would have made me sick at least.