sort by best latest
Patty this is an amazing question.
I apologize ahead of time, because my answer will be honest and given as my own opinion.
_____________________
The reason for my probably unpopular answer is from over a century of gathering data, being involved and paying attention to what is happening in and on my globe our only habitat.
I have noticed there are greedy boys who think the world is their very own sandbox, To them, the rest of us are cheap replaceable plastic play soldiers and Indians - easily tossed aside.
Lost joining in the rock cycle of geological transportation.
Sometimes when bad actors are called out on their misdeeds they will behave. Left unfettered and unregulated they are monsters who need some time with a peach tree switch.
____________________________
When settlers came to spread their seed over everything they could see with the naked eye. They grasped hold of unrealistic parcels of Earth.
Some scripture and some smooth talking leadership convinced these new criminal immigrants that they should take what land their eyes could see, and eradicate what hampered the perfect vision of Manifest Destiny.
____________________________
They needed to populate their land so they could farm, create their own kingdoms and subdue Earth. The animals and People who looked like the Earth were to be subdued as the Creatures who inhabited this "New World." In order to do this they needed a group of people they could rely on to help build this corporation. It would start from their own loins. If there were not enough being born, new wombs were purchased. Slaves were bought.
____________________________
It no longer requires a large population for a family to survive.
Resources are not shared fairly and this is causing a scarcity of food and the ability for people to simply clothe and house themselves.
In our society if you own certain items you are considered "in." Elementary and Junior High kids who do not have "i" something are not considered in at all. Having fewer children make it possible to do more for them materially.
_______________________
Regarding "Cheaper by the Dozen" it is true that having a larger family would assure them generational wealth.
In large families or tribes who share ethically resources seem to grow exponentially when everyone is contributing.
Less is more where love is the chief operating engine.
In the 19th and early 20th century the extended family model was the popular family plan. Generations lived under one roof and child rearing was undertaken by the adults in the house (the village so-to-speak). Expenses, child care, and familial support was available-great advantages in that.
Today, our society (US) is made up mostly of the nuclear family model and generations rarely reside together.
I believe a family is too large if each individual child does not get adequate time and attention from parents. A family may be able to afford 10 children but are those children getting enough interaction, and attention and guidance from parents whose time is at a premium? I would find it hard to believe that they do. We raised two children and at times it was a struggle to make sure all emotional needs were recognized and met.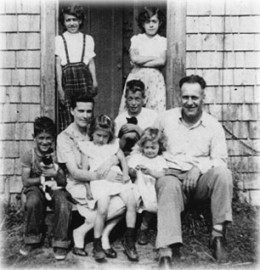 People had large to very large families(6 or more children per household) because in agrarian &rural societies children were needed to work the land. Also before the advent of social programs & institutions, large families provided financial/social support for older, indigent, physically/mentally challenged, &single people.
In the early 20th century, with the increase of urbanization, large families became problematic. Children were no longer needed to work the land in cities.Many parents felt overburdened by the sheer number of children that they had. They were not able to support them properly & many children had to go to work in the cities in order to support their families. This was an issue, Margaret Sanger & others began to see the importance of birth control. They see the detriments of large family life in terms of the parents, especially the mother, & for children. With the advent of & more implementation of birth control in families, families became smaller. By the way, many educated & affluent women had smaller families.
Although there were birth control around in the early 20th centuries, there were oftentimes strong religious prohibitions against it. There were also some strong cultural taboos against the small family. The large family was seen as the idea by people, religionists, psychologists, & social scientists. Parents of large families were viewed as "real and true" parents & mothers of large families were considered to be the most feminine. In the postwar Baby Boom era,larger families of 4 or more children were the norm. So much so that smaller families of 1-2 children were severely criticized as being anti-family. In the 1960s& 1970s with better birth control & liberalization of women's roles, the number of small families skyrocketed while the number of large families plummeted.
The definition of the large family is anywhere from 6 or more children per family. Oftentimes 1-4 children are considered the ideal number of children for parents to raise effectively, using the span of control. Any more than 4 children means that oldest children are enlisted to raise their younger siblings. In large families, it is the OLDEST CHILD who is THE TRUE parent. They are parentified children. In large families, NONE receive individualized parental attention. In large families, the older children will be discarded/pressed into service or left on their own while the younger children will receive THE MOST parental attention.