sort by best latest
Interesting question. I see anger, in general, increasing – both on the roads, in stores, and in other public venues. It is disturbing. All we can do is try to assuage this anger when we are presented with it.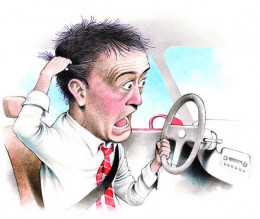 The causes are many and I cannot do justice to this; however, the remedy is two.
(1) If one(s) were not in a hurry, this alone could remedy significant amounts of road rage.
(2) if one(s) can continue to have hope, yes I texted hope; then indeed one(s) would have a significant barrier to grave actions like road rage...
I think the cause of road rage is ignorance and ego. Some think for some reason that they own the road because they pay taxes. Well, everyone pays taxes. Everyone seems to be in such a hurry and they drive accordingly. Actually, the menace on the road are the ones who do have road rage.
I think for most it is also a control issue. They are out of control in their own lives and are searching for some kind of control while driving.