sort by best latest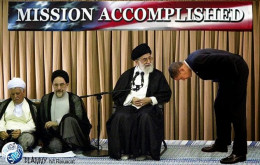 In a 10-minute rebuttal to Netanyahu's address, Obama said the prime minister offered no viable alternatives. "The alternative that the prime minister offers is no deal," he said.
As usual the President, looking angry and defiant starts with a lie, a straw man, namely that Netanyahu has offered no viable alternatives simply because he wants no deal! Then he argues that that approach, a straw man and nowhere near what Netanyahu suggests, the deal he is trying to get is the best way to stop Iran from getting nuclear weapons.
The truth is Netanyahu eviscerated the proposed deal Obama is working on with Iran. He pointed out simply that it is a bad deal because it, at best, only delays the time in which Iran will get nuclear weapons and how this deal with Iran will ignite a nuclear arms race in the middle east, and does nothing to stop Iran's doomsday goal, behavior and rhetoric toward Israel.
How old will your children be in ten years? Will a middle east full of nuclear weapons make them feel safe then?
Read the transcript yourself, http://www.washingtonpost.com/blogs/post-politics/...
the transcript that Obama claims to have read because he was too busy to watch the speech (yeah right, another lie, he lies every time he opens his mouth) and then tell me how anyone can come to the conclusion that the prime minister offered no viable alternatives, I challenge anyone because his alternatives are right there in black and white and they are the only viable alternatives to stop them from ever getting nuclear weapons.
I predict Obama will now give Iran whatever they want just to get an agreement Israel will not approve of solely to shove it in their face for Netanyahu not falling in line with the demands of his highness, Barack (who is sane?) Obama.
Thanks for typing that so I didn't have to. Obama didn't watch the speech and most likely didn't read the transcript either, he just says what Iranian born adviser Vallerie Jarrett tells him to say. Obama is a puppet, and Jarrett makes him dance

---
I think he spoke with dignity, conviction and class. He graciously even honored the Democratic leaders who were gutlessly selling out Israel in an attempt appease Iran for political reasons.
Netanyahu sounded like the leader that many here wish we had. He realizes that making concessions to Iran at this time threatens the survival of Israel, security of the region and world at large. He was willing to do what it takes to protect his nation, by pushing aside protocol and politics to get the job done.
True to form, the democrats and Obama rightly appeared petty and vindictive, much like spoiled adolescents that don't get their way. They looked small and childish when contrasted by the prime ministers poise and maturity.
You know the reason Bibi did this is because he knows Obama cannot be trusted and will sell out Israel just to get a deal,any deal,so he had no choice but to state his case publicly to those who will listen and can do something to avert disaster

---
I want the Swedish King to come here and demand of America....after all I'm Swedish...where is my representation! Also, the Lithuanian president...I'm waiting.