sort by best latest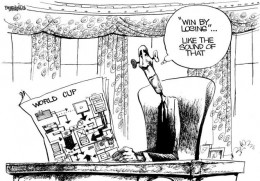 Like any idiot could have seen this coming! Wait, no that can't be right because it was idiots who elected him, twice!
Well, maybe we can give the idiots a pass the first time, fool them once shame on Obama but fool them twice? As Bill Engvall would say, "Here's your sign!"
Who in their right mind would ever think a 1/2 term Senator, already suspected to be a do nothing charlatan whose closest associates were America haters or criminals (Rev. Wright, Bill Ayers, Tony Rezko) who had absolutely no experience whatsoever to qualify him as a candidate for the Presidency of the United States could even formulate a foreign policy. The guy didn't even know how to salute or pronounce corpsman and he is going to command the military?
So you want to compare his foreign policy to Jimmy Carter? At least Carter knew how to grow peanuts, the only thing Obama knows how to grow is the debt and his own income. Yeah Jimmy Carter's foreign policy had it's bright spots, some would even say the last year of the Carter administration laid the groundwork for ending the cold war. But even without any Jimmy Carter foreign policy successes Obama would still be the worst foreign policy president ever. Why? Because after 6 years of leading this country, and the world, "from his behind" he has shown himself to be an utter pathological liar, not to be trusted by our allies (who are not as stupid as our electorate, they know this) and ripe to be taken advantage of by our enemies. The end of the Carter administration parallels the second Obama term. Russia has invaded a neighbor again. Only this time on the European continent, and Russia annexed its territory instead of just attacking it. Of course again the Middle East is in flames, with the prospect of another Islamist movement taking control over a state, this time in Iraq.
But instead of responding to the collapsing world order with support of our allies and undermining our adversaries, the Obama administration dithers. This is so bad now people are longing for the resolve and fortitude of Jimmy Carter.
Face it, Obama's only talent, if you can call it that, is a willingness to lie to everyone and anyone, be they his constituents, our allies or even his supporters. It seems he is more likely to lie to all of America than our enemies but the thing is, why it isn't a talent, is that he stinks at it, he is caught in every lie and then lies about the lying he has done. It is so bad a child can predict what his next lies will be.
Yet, we're a hell of a lot better off now than we were in 2008. Funny how that worked out for us.

And I have nightmares to this day thinking about what would've happened if Palin or Romney ever got to set foot in the White House.

---
In my opinion, Obama is, by far, the worst foreign-policy president in the history of this great republic. Or, to say it another way, if Pee-wee Herman would ever have been the chief executive of the U.S., he would have been a better foreign-policy president than Obama.
Paul Rubens player Pee Wee Herman. Paul Rubens was arrested for doing in a adult movie theater what Obama does everyday in the White House.

---
The world has changed dramatically since 1978!
No one president has gotten us to where we are today. Let us not forget the Iran Hostage crisis which lasted from 1979 to 1981 is what helped to sink Jimmy Carter's re-election bid along with his horrible economic policies.
Following his overthrow in 1979, the Shah was admitted into the U.S. for medical treatment for cancer. This did not endear the U.S. in the Middle East. Neither did the Iraq War and many other mishaps that occurred before Obama was elected president.
The reason why Obama won 2008 is because the stock market crashed to all time lows, unemployment was at 10%, foreclosures were at record highs, two wars had dragged on for 10 years with no end in sight costing the country (trillions of dollars) in debt and John McCain was on record for agreeing with George W. Bush 90% of the time. There was no reason to "stay the course".
Today the stock market is at all time highs, unemployment is below 5.9%, Osama Bin Laden is dead, Iran is at the negotiation table to halt it's nuclear arms goal. We always have the option to go to war but rarely do we have an option for peace.
Only decades from now will we be able to look back in hindsight to see if Jimmy Carter was better than Obama at foreign polices.
Quantitative Easing Infinity,Work Participation Rate,Osama-pety revenge,Iran rolling over BHO-Minuscule economic growth,the surge of Islamist Terrorists in&beyond Afghanistan,Iran's centrifuges keep spinning.World-different&deadlier-Thanks Ba

---