sort by best latest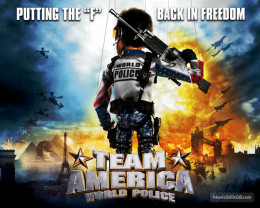 Sounds like another attempt to conjure up a conspiracy theory from Fox News!:)
The message is always the same. America is weak and going down the toilet. It's no longer a "Super Power" unless we jump into one war after another killing our youth for countries that really aren't our "friends".
Over the years we've propped up just about every side in the Middle East at one time or another. Today's enemy is tomorrow's friend.
It's not a "New World Order" its the same "Old World Order"!
Powerful world leaders playing chess with each other using countries as pawns. There is a faction of people in the U.S. who would love to simply pull out of the Middle East altogether.
Even Donald Trump states it was wrong to invade Iraq. Bin Laden & Al Gaeda weren't there, nor were WMDs or ISIS there either.
Many of those countries have been at war for (hundreds of years)!
America is not down on it's knees. No country with over 7000 nuclear warheads can ever be considered "weak". Some folks are just ambivalent and tired of playing the role of the "world's police".
Maybe the new president will put boots on the ground whenever the wind changes. Only time will tell which way people vote in 2016!
Where do you get those glasses? I would like to have a pair to see things in US looking so good! You can't possibly believe the things you say. Maybe you should watch some different news channels. It is sort of like comparison shopping. See it all.

---
I think we are well beyond the NWO starting, it started in 1897, and since then has carefully been administered by those who genuinely have felt that global government could solve things.
They were wrong, but in some cases understandably wrong!
As long ago as 1985 I was proposing that all people get one number that would serve them for life as their health, wealth and life number, of course at the time I had no idea that what I suggested was a suppression of freedom, and the 'mark of the beast' , it made sense, and from a logical secular viewpoint it would still make sense.
Likewise back then you could easily convince me that reducing the world population to a 'manageable' number (say 500 million) was an excellent idea, but at that time I was selfish enough not to look at what would happen to the billions of 'worthless air breathers' that would be terminated, and could not believe that I may be one of them.
Obama, and all the other 'world leaders' are actually just front men for the group of banksters who control (already) 60% of the worlds trade, and who want to control ALL of the worlds resources.
If you value individual freedom, then sorry, its too late to stop this NWO global control cabal, they are on a role, will soon collapse the worlds economy, and in the ensuing chaos and calamity, the people of the world will cry out for order, which our new fascist masters will provide, in return for total loyalty and allegiance to their 'plan'.
Only later would you find out whether you were to be retained or disposed of, and nobody will stop them disposing of people, in fact, like in Nazi Germany, the 'trustees' will assist in getting the dispossessed into whatever killing field they are ordered to put people.
However, there is another player in this game, namely Yahweh, who allowed us to create this mess because He gave us freedom of choice (which the NWO will definitely remove) and which we corporately have misused to the extreme.
Soon the Holy Spirit will be removed, so no more protection unless you have the Holy Spirit 'infilled' within you, the world will have no protection from the dark forces that are gathering to feast on humanity.
The birth pangs have begun, soon God will do a cesarean to save His people from the ensuing carnage, all you can do now is choose who you will trust...... God or the World system?