sort by best latest
It's definitely real. But I wouldn't say it's more virulent than ever since racists now have to be coy about it and can't declare themselves openly. This shows a trace of guilt that has resulted in hypocrisy. For example, PC moves like banning the so-called "N-word" everywhere have really only driven racists to invent their own secret code language that makes them feel better about themselves and keeps other people in the dark. Instead of saying, "black people" whites will now use the code word, "Canadian". Saying a neighborhood has bad schools is white-code for "it's a predominately black neighborhood". They want to be racist without feeling racist. I find the only way a black person can ever truly know if they are accepted in a white group is when the whites start getting comfortable enough to use racial slurs or racial complaints around him.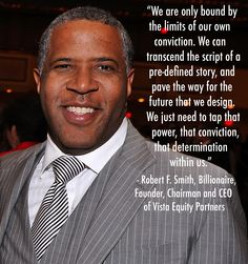 For the most part it's not nearly as bad as it was.
There aren't separate water fountains and restrooms. It's not unheard of to see minorities in elected office, running fortune 500 companies, no segregated baseball/football/basketball teams or military.
There are (billionaires) of different races including the pictured Robert Smith who heads his own Equity and investment company.
Racism (for the most part) is less overt than in the past.
Anytime a law has to be passed to curve an activity you know it was a major problem at one time.
Emmett Till (age 14) was killed in 1955 for flirting with a white woman.
In 1967 the Supreme Court struck down laws that forbid interracial marriage. Today interracial dating and marriage are no big deal.
That's progress! Having said that I believe racism is here to stay.
Even if we were all one color there would be discrimination and racism based upon eye color, hair, or whatever. Historically mankind has always looked for our "differences" to justify treating one group as inferior. There will always be some folks who are on hard times who will blame another group for their hardships that elicits hatred.
If someone finds them self in a discriminated group they have to be determined to not let racism deter them from their dreams and goals.
I'm sure someone like Fredrick Douglass could put things in perspective. Times are much better today than in his era.