sort by best latest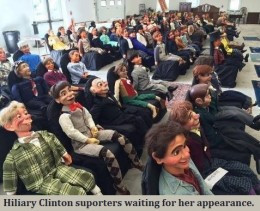 What do liars do? Accuse everyone else of lying. Next she'll be saying the survivors of our dead patriots are part of "the vast right wing conspiracy." (you know the conspiracy that made up the Lewinsky affair that didn't happen?)
Time for a new playbook Hiliary like try telling the truth? She can't, 40 years of unethical, immoral, behavior at the expense of the public trust.
Viva La Dépravation
If it is true she is denying what she said it is because she knows her supporters need an excuse to not believe the truth, so she gives it to them and despite the FACT that SHE IS OBVIOUSLY AND PATHETICALLY LYING again, they will believe her lies because they are dummies.
Of course you are always going to get those who can't accept the truth and will attack the messenger, be the messenger Fox news or anyone else reporting the truth they don't want to hear, just another liberal tactic to obfuscate the facts.
More than 3-in-5 voters, 61 percent, think Clinton isn't honest and trustworthy. Overall, Clinton's favorability ratings slipped to 39 percent — her lowest rating since Quinnipiac began polling on Clinton after she and her husband left the White House.
When voters were asked the first word that came to their mind about Clinton, the top three replies were indictments of her trustworthiness. The No. 1 response was "liar," followed by "dishonest" and "untrustworthy." Overall, more than a third of poll respondents said their first thought about Clinton was some version of: She's a liar.
So who do you believe, Hiliary Clinton or the loved ones of a dead patriots who have nothing to gain by not telling the truth? Hiliary continued lying about the video publicly, to the whole world for weeks even sending others (Suan Rice) on TV to tell the lie!
Perhaps it is unwise of me to take serious offense, on behalf of all Americans, to be lied to continually. It appalls and disgusts me that our intelligence & common sense is repeatedly insulted to a level of abuse & degradation. However, sadly this is the hard core fact of reality in the entire history of Hilary Rodham Clinton. There truly is no longer even a scintilla of wiggle room to doubt this, much less to dispute it.
Yet, her cult hangs on for dear life, not aware it is their life she endangers.
Yes, due to the very basics of politics, such as it is, we have learned to expect some amount of deceit, manipulation, semantics & misuse of power.
To SEE the proof of sheer "criminal activity & behavior" in the complete history of Ms. Clinton, yet turn a blind eye and refuse simple REASON, remains something I do not understand and surely will never condone.
We deserve so very much better.
Good question Polly. I fear some answers will be quite depressing.
You should probably stop getting your "news" from Breitbart and FOX. This is just another example of the extreme right media trying to revive a dead story, to divert our attention from what's important.
Yeah you'd like that wouldn't you. So would Hiliary. She wants people like you to keep your head stuck in the sand.

---