sort by best latest
Did it ever occur to you that maybe it's the same ones who got the lost money in Iraq, the Pentagon, all the money that goes missing? Did you ever think we may be infiltrated at the highes levels? Do you ever wonder how all this money is unaccounted for, and also the gold bars? I mean, is it all Hillary? Did she lose it from the Pentagon, too? In Iraq, bars of one dollar bills went missing...no clue. Was that Hillary? You see, you keep pounding on her, but since 2010, I have not seen you mention any of these others. That is suspect in my eyes. It's as if it's not what happens that matters, only who it happens under.
They found the money, 6.6 billion that was lost in Iraq, or didn't you hear? State department hasn't found anything although Hiliary says it was "misplaced" - guess she knows, right?

---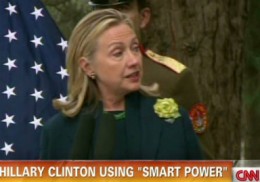 6 Billion? Just a drop in the bucket? Or maybe check off another item on her bucket list?
I like the way Doug Powers put it:
"In the world of federal government finances, being unable to account for an amount of money that translates to some 10 to 15 percent of the department's annual budget might be considered "nailed the audit!"
How fast would the head of a corporation be hauled before a congressional committee and maybe even perp walked for a similar "oops"?
Instead, the person who was at the head of the State Department during much of this time is considered by many a front-runner for the presidency. "Smart Power™" works in mysterious ways.
In one case, Hillary Clinton wrote a $50 million check for "services performed." The paperwork for what exactly the "services performed" were has also been "misplaced." Just for the Iraq Embassy in Bagdad, a staggering $2 billion is missing!
So that's why she was really glad she voted for the war in Iraq?
Anyway it's been years since the money went missing.
Don't ignore the logic of Oztinato, she just misplaced some money, who hasn't? put her in jail and we should all be in jail,
But you pose a logical conclusion, what dirt does she know? and on whom? If there is an answer to that question PA you ain't gonna find it here!
I guess she has to win this election unless she knows who will pardon her & why. I wondered too why all of a sudden she is having high praise for Obama & his legacy; he must have had a talk with the idiot that was going against him for awhile

---