sort by best latest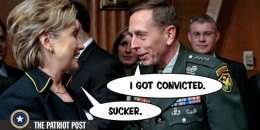 What do you mean they are setting David Petraeus free?
Are you referring to the fact that recently the Pentagon said it won't punish David Petraeus any further in sex-and-secrets scandal, something that has been hanging over his head since Petraeus's civilian sentence.
That sentence did not necessarily exempt him from further punishment at the hands of the military. Under the Uniform Code of Military Justice, although he retired from the Army in 2011 to take the top job at the CIA, he still could have faced discipline for his actions and that is what the military has decided not to do.
Well that really doesn't relate to anything Hillary might be charged with unless she was in the military and subject to the Uniform Code of Military Justice.
After a lengthy investigation by the FBI that disgraced the onetime military hero, Petraeus pleaded guilty in federal court in North Carolina to a misdemeanor charge of mishandling classified materials. He was sentenced to two years of probation and fined $100,000, a civilian sentence which can not be erased (unless Obama decided to pardon him).
So really Hillary stands to be punished for many more and far greater crimes than anything Petraeus plead to and in her case, unless i am mistaken, a military punishment wouldn't even be on the table.
Some in the media have already drawn a comparison of Hiliary's crimes to Petraeus' so further punishment of Petraeus really doesn't matter, the media has outed the double standard probability.
HOWEVER, and this is a big however! Why did Petraeus, who has always shied away from politics, in his book, lavish so much praise on Hillary Clinton? He seemed to be endorsing her as a candidate for President! "She'd make a tremendous president," Petraeus says in the book "HRC" by Jonathan Allen and Aimee Parnes. & for Petraeus, Exhibit A in why she would be a tremendous president was the very thing for which Republicans most aggressively attack Clinton: her performance as Secretary of State when the U.S. consulate in Benghazi, Libya, was attacked.
"Like a lot of great leaders, her most impressive qualities were most visible during tough times," Petraeus tells Allen and Parnes. "In the wake of the Benghazi attacks, for example, she was extraordinarily resolute, determined, and controlled."
I think it is obvious Petraeus pandored to the administration and Hiliary about Bengazi in hopes, or perhaps even a quid pro quo, of no military punishment. "most impressive qualities" "extraordinarily resolute, determined, and controlled" lol what do those statements mean? That's like saying Johnny your speech was exceptional (exceptionally bad?).
Obama has had him by the balls long before they brought charges against him, undoubtedly strong arming him to do their will even after.