sort by best latest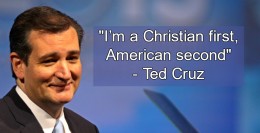 Not so sure that's where you want to go. Often son's of preachers are as wayward as you can get and who wants to vote for someone based on his father's credentials (Bush?)
No, I don't like that idea at all. I do like how he doesn't back away from his beliefs. Marco Rubio is another one who puts his beliefs front and center in the political arena and is not ashamed of the gospel.
https://youtu.be/NPdYO9d7WYU?t=61
Anyone who speaks publicly like Marco about how he feels about his faith has a chance of getting my vote as long as his actions back up his words..