sort by best latest
Nixon: botched attempt to break into building to steal files
Clinton:
1. stonewalled investigation of the attack on an embassy that killed an ambassador after blaming things that were unrelated to it AND likely illegal activities going on there
2 had a private server set up when becoming secretary of state, in direct contradiction to government procedure, to evade public record requests
3 had secret and top secret data on said server, a violation of federal law and separate offense
4 foreign businesses give donations to Clinton Foundation or Bill Clinton paid a million dollars for a one hour speech, State Department within a week or two gives trade permissions, export permissions, etc.
5 Huma Abedin and several other aids worked for the Clinton Foundation AND State Department and often another federal office, getting multiple paychecks, most likely bribery/fraud
6 Allegations but not yet proven like the five above that Huma Abedin and other aids had inappropriate access to top secret data and used it in their Clinton Foundation work, in essence, leaking info to curious parties while soliciting bribes
I vaguely remember the chaos and scandal of Nixon. I had an enormous overall aversion to the man. I could barely look at him or listen to him. Not to mention the fact that at that particular time in my life, I had much more immediate and vital things to do, not the least of which was raising a family. Politics did not interest me. Frankly, I wish I'd have remained disinterested.
I have much disdain and disrespect for Politicians the world over. I see nothing but hard core greed, theft, oppression, deceit, war mongering and power freaks. Whatever it takes to get there, they are pathological in their quests.
Hillary is so dirty, I'm amazed she hasn't imploded from the heavy load of crimes, lies & money grubbing. It is beyond me how it is every single human being cannot clearly see these blatantly obvious flaws in the woman.. The blindness is stunning.
John Edwards is a dirt bag as well but at LEAST he bowed out of sight and owns his shame. These people are truly sick as well as sickening.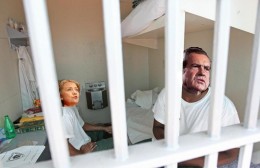 Which is the greater crime? Great question.
Democrat answer: No crimes were committed by Hiliary, Republicans did the same thing. (a total lie but exactly what we expect of the criminal, socialist, democrat party)
Republican answer: Richard Nixon was the bigger criminal because he got caught and didn't have an immoral and corrupt party accepting of cover ups and to protect him from prosecution.
My answer: They were equally corrupt and their crimes were equal. They both committed various crimes however the high crimes they both are equally guilty of is lying to America and covering it up. Once either crossed that line they became equally guilty of anything that resulted from their immorality.
I am certain the two of them would get along fabulously were they to share a deserved jail cell.