sort by best latest
That sure is interesting. Do we want more uninformed voters? I think I am against it. If you can't take the time to register you certainly won't take the time to learn what is going on. Then it would be sound bites and commercials that would determine the outcome of elections -- not good.
Just because you're registered doesn't mean going to vote. It's not like automatic organ donor registration.

---
What about people that aren't American Citizens?
Also for those that don't drive, how do they register to vote?
There is nothing in the constitution that says you have to register with a political party preference.
How did we get where we are today, where each party has its own registration.
Party primaries don't serve a purpose. We should be able to vote for a candidate of any party to narrow down the selection for the general election.
The Constitution gave the states the rights to determine Electors and most issues with voting. The Founding Fathers also initially purposely left off protections for certain people to vote, some of which were reversed with later amendments

---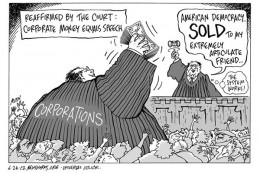 bradmasterOCcal raised interesting questions. Are aliens allowed to vote? Since the following is beyond the limit of a comment I put it in as an answer.
Foreigners are prohibited voting in Fed elections but not in states. Alien suffrage differs in each state. Pro/Con reasons here @ http://cis.org/NoncitizenVoting#legality
Eleven states allow illegal aliens to get driver's licenses. Twelve states have statutes that permit nonresident voting locally under certain conditions such as land ownership.. Reference @ http://www.ncsl.org/research/elections-and-campaig...
Only American citizens (and immigrants with green cards) can contribute money to federal politics,
Citizens United Supreme Court decision allowing unlimited free speech via spending by international corporations could allow foreign nationals, governments and individuals to bankroll US elections is the biggest problem IMHO.
Since all publicly traded 'American' corporations are owned by some degree by foreign nationals than means any electoral spending by such corporations is potentially illegal. (theintercept)
The FEC reaffirmed that position as recently as 2006, in another advisory opinion stating that domestic subsidiaries of foreign corporations may donate to state and local elections. It's not illegal for 501(c) groups to accept money from foreign citizens.
It appears to be that big alien money is a bigger problem than individual alien voting due to the greater influence.