sort by best latest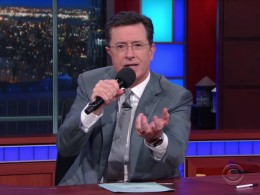 Who is going to prosecute them? By law they are supposed to pass the budget and they haven't done that in years. We are all still in sequester. Can't answer your question but if want to feel better with some comic relief then check out the 'Smack down' of Colbert giving out the dirty dozens to the Senators who rejected 4 gun control bills days after Orlando.
"Hey, you might as well ask the gun lobby to check for a hernia as long as they have your balls in their hands."
"Senate, you accomplished so little that Kylie Jenner wants to know what the hell you do for a living."
"You're like a grandpa after an all-starch dinner, you can't get s--- done."
Nice Try ptosis, but I'm not so sure we can COMPARE Passing a Budget to "Aiding & Abetting" Terror Suspects like Republicans do every day by REFUSING to VOTE on Legislation which would BAN Terror Suspects from Buying a Weapon of "Murder & WAR

---
There are Muslim mobs in Pakistan and Bangladesh murdering dozens of atheists with machetes.
A Paris policeman was stabbed to death by a Muslim terrorist on the same day as the Orlando shootings.
A Muslim mob in Egypt killed around 80 Christians with various weapons like machetes and metal bars while burning down their homes, because they requested permission to build a church.
Boston Marathon bombers, Paris bombing, Madrid bombing, Brussels bombing - all by Muslims.
Taking away guns doesn't prevent Muslims who want to kill you from killing you.
And Christians Murder 1000's of AMERICANs annually right here in the USA ~ The FACT that we have a "No Fly" LIST for Terror Suspects which means they are "BANNED from Flying", yet Backward Republicans Enable them to BUY GUNz ~ Prosecution TIME ~

---