sort by best latest
Mr. Clinton knew the lingo. I don't think Mrs. Clinton ever figured faith lingo was important. Mr. Trump got some good faith advisors. But he doesn't know what's inside the Bible, Quran, Book of Mormon or the Bhavadgita
Eric, I do not think you missed anything.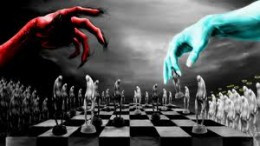 You really haven't. Hillary Clinton is the epitome of political self-aggrandizement. It was her ultimate aim to be president since Bill Clinton was in the White House. Hillary saw Bill's presidency as a pathway to being president herself one day. Hillary is an extremely astute political player. Hillary will use any means to get to.....THAT PRESIDENCY, come hell or high water. Hillary has been a political insider for decades. Hillary first worked for Goldwater as a Republican, then she was a first lady of Arkansas, subsequently first lady of America, Senator, Secretary of State, & now presidential candidate. To Hillary, politics IS her CAREER, nothing more, nothing less. Hillary intends to use politics to become more of a multi-millionaire, if not billionaire.
Donald Trump is at least more sincere regarding his concerns of improving America socioeconomically. Trump wants America to be once again a viable country. Although Trump is a political outsider, he has business acumen & amassed prestige building businesses & establishing a brand. Trump is also more honest than Hillary Clinton who has a history of lying & other unethical conduct.