sort by best latest
Well, I think he was asking for the Russians to give the Hillary emails if they had already hacked them.
The point is driven by Hillary lying about her email and email server, and that is a fact now. FBI director Comey in from of a congressional committee in no uncertain words said Hillary's statements about the classified emails were not true.
Trump is the democrat red herring to take the heat off the real issue. Hillary lied about the email, and president Obama swore to it.
The issue is a Hillary issue not a Trump issue.
Hillary is a proven threat to National Security, Trump isn't associated with the government, yet.
We all know by now, after 9/11 it should be quite clear to all thinking people in or outside the US, the whole show is put on by government insiders at the expense of ordinary people to keep fooling them they live in a democratic country ... all BS !

---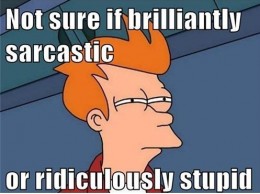 Donald Trump said he was being "sarcastic" when he said he hopes Russia will find Hillary Clinton's deleted emails from her years as secretary of state.
mm, Can anybody tell me who saw the video of Trump if he was really being sarcastic? Was there overly positive or negative language? Intense verbs, adjectives and adverbs? Was there lifted eyebrows, rolling eyes and smirking mouth? Elongated words with a nasal tone?
When someone's being sarcastic, sometimes it's the tone, rather than the words, that let you know.
So let me know if you think from the video if you thought at the time he was being sarcastic. Thanks!