sort by best latest
Best Answer Jack Lee says
This will never happen in a free society. It is something that a Communist country like China would do and in fact has done in the past.
We stand for liberty and freedom and we are better as a nation for it.
We can modify our social and welfare laws to discourage irresponsible personal behavior but it is up the individual to decide.
Thanks for your answer. Some small groups that still want the legislation passed and I think the larger population will protest loudly enough to stop them.

---
If there was a serious movement in that direction, the first route that would be practical and socially acceptable would be mandatory long term contraception like Norplant or an IUD for women on welfare and teenaged girls whose families received any type of financial benefit.
If you can't afford to take care of the children you have, it is reasonable to say you shouldn't be allowed to have any more children. Earn enough to get off welfare and benefits or marry a man who provides for the family, then you can get your fertility back. The benefit of this approach is not mandating abortions and eliminating the need to supervise someone taking birth control pills - just one implant/doctor visit and done for five years.
The fact that women on welfare tend to have more children than working mothers (closer to 3 children than the US average of 1.8) would lead to both population reduction and reduction in the demand for welfare benefits. But Democrats have never supporting anything like this because they like people being dependent on the state - which is why they supported welfare programs that discouraged marriage and out of wedlock childbearing in the first place.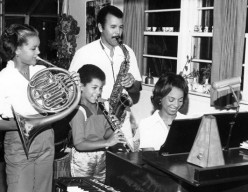 There are no laws in the United States which advocate this. However, advocates of Zero Population Growth do advocate this & for good reason. It used to be to curb the population explosion. Now, it is well known that children in small families have the most opportunities in terms of education & socioeconomics. Parents have more resources emotionally, mentally, psychologically, & socioeconomically to devote to small families than they would to a medium, medium large, large, & very large families where parental resources are drained.
Yes, there SHOULD be laws limiting family size to 2 children & that poor people who can ill afford children should be sterilized, even forcefully as children born into poverty are doomed from the start. Such children don't have the intellectual & cultural resources that more affluent children have. They have low quality of life of penury & want & no child should ever undergo that. Yes, poor people should be sterilized as they aren't capable of supporting children. However, parents no matter their socioeconomic standing should limit the number of children they have. Affluent parents KNOW the benefits of judicious family planning (1-2 children).
Yes, small families are the best for children's development.If people want a larger family, then 3-4 children are fine.No more than that. In small families, parents have the span of control & can raise children effectively w/o enlisting the aid of older children to raise them. Let's be intelligent here. Parents shouldn't enforce the oldest children to raise younger siblings. That is what usually occurs when parents decide to mindlessly & be proliferate in their reproductive mannerisms- they have MORE children than they can effectively raise alone. So what happens? Oldest/older children are left w/the burden of raising younger siblings thus forfeiting their formative years which isn't fair to them.
Yes, there must be draconian methods to limit family size to 1-2 children, at the most 3-4 children. Studies have endlessly proven the detriments & disadvantages of medium large(5 children per family), large(6-8 children per family) & very large families(8-children per family). Poverty, want, scarcity, poor nutrition/clothing/health care, lack of parental attention, parentified oldest children, neglected children, children left to their own devices, no privacy, no sense of self, & other negative characteristics. No one wants that for their children.
Somebody correct me here. A single mom gets so much per child on welfare. The more children within the same walls of a unit -- the more money per square foot. I do not see a real argument that our system does not encourage more poor children.

---