sort by best latest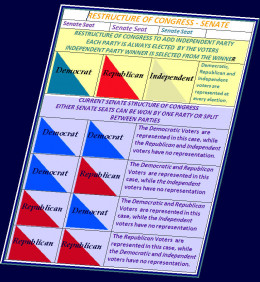 That could only happen if the loyal party voters want to change it. If a strong independent party could challenge the dem and repub that might bring the two closer to deal with a strong independent.
A strong independent party could happen if strong political leaders joined it.
This year if Bernie Sanders and Donald Trump went independent they could get a big share of the vote, or at least enough to beat the dem or republican candidate.
Party loyalty is the problem, and the people that are loyal party members are responsible for the gridlock from the two parties.
To paraphrase Dennis Prager, morality for conservatives is "do what is right" while for liberals morality is "do what feels right".
Liberals thus can ignore religious rules and government laws they don't like, even following feelings to the point that a man who feels like a woman is considered to be one regardless of biological reality.
Conservatives say follow the rules, whether religious or legal, even if you don't feel like it, because it is the obligation of a citizen.
Liberals are undermining any control they have over conservatives and civil society as a whole when saying "we don't like immigration law, our city will ignore it" and "we don't like drug laws, ignore it". Then liberals, who tend to use government as the source of morality and whose default solution is "there outta be a law", are going to run into problems when conservatives stop caring about the law. That's why the demands for new gun laws that do nothing to stop criminals are going to get ignored in mass - if liberals can ignore immigration and drug laws, how can they then demand conservatives obey gun laws that violate 200 years of jurisprudence and the Constitution? Or demand conservatives obey laws on using pronouns because one mentally ill person demands it, that person's feelings trumping the reality or religious rules of the conservatives?