sort by best latest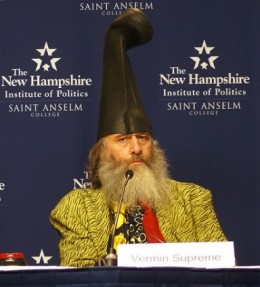 VERMIN SUPREME is the only man for the job.
He's the only candidate whose platform even mentions Zombie Preparedness.
He's going to fund time travel research so we can return to the past and kill Hitler and the heads of ISIS.
Under Vermin's watch, everyone in America will get a free pony.
Plus, he's a snappy dresser. Check out his badass rubber-boot-as-headwear combo.
Talk about making America great again!!!
Bernie Sanders.
I don't agree with him on everything but he does tell it like it is. Unlike trump and Hillary. He also has a level of integrity that the other two severely lack.
Interesting answer. I trust his integrity but I don't trust his policies. So I respectfully have to partly agree and partly disagree.

---
Yes, I would Trust Donald Trump for severalreasons.
1. He is not a politician.
2. He was not involved in the government that allowed both 911, and the 2008 economic meltdown to happen without any proactive or even effective reactive actions.
3. Politicians made promises and they failed to honor those promises. So we know that they lied and they are untrustworthy by deed. They make promises to get elected, and then when they are an incumbent, instead of relying on their successful record, because they don't have one. They make new promises.
4. People are saying that Trump is not trustworthy but that is just their party opinion, and not measured by any failed promises. Politicians like Hillary have a verified background of lying. Most of it has been video taped.
5. Even if Trump changes position, it is not lying because he had not acted on it as an elected official. Politicians have made on the record decisions and then changed it when running for election.
6. The country has been in decline since the 70s, and tanked in 2008, and now we are skipping along the bottom. So we can't trust them to make any better decisions no matter what they say in their campaign. Just look at the last several elections and see what changes were beneficial. So that leave Trump. I think he is sincere in wanting to make his changes for the benefit of the country and the people.
My point is that I wouldn't trust any politician.