sort by best latest

According to news as of 8:30pm MST 8 weeks before Election Day: ""Secretary Clinton has been experiencing a cough related to allergies. On Friday, during follow up evaluation of her prolonged cough, she was diagnosed with pneumonia," said Dr. Lisa R. Bardack, Clinton's doctor. "She was put on antibiotics," & Clinton will not be traveling to California tomorrow or Tuesday."
Somehow all guilt in me has now been released and I feel so much better voting for Tim Kaine - instead of HRC. :) - even tho' Kaine is one of Obama's "loyal 'yes men,'"
"I don't know anybody on the Republican side who has a bad thing to say about him [Kaine]. He doesn't go out of his way to go after people politically and he's all about policy," added Sen. Jeff Flake (R-Ariz.).
If HRC withdraws for health reasons, that would be terrible news for DJT because most people voting for DJT do so because not HRC.
Pneumonia can be tricky in the beginning stages. I remember getting a cold after a doing half-century bike tour in pouring rain near Long Beach. All the cold symptoms went away except for a dry cough. Later came the gurgling wheeze when breathing.

---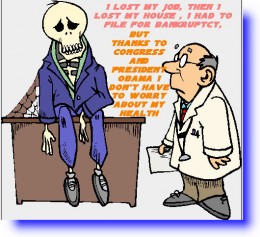 ptosis
The HRC staff will come up with a different story. She was overcome with emotions of 911. And people will be praising her for being so connected with the event. Isn't that what they would have done on the TV show the West Wing?
How would this event and its result have been handled if HRC was the president? What information on her condition would we have been given by ???. I don't know who controls that information?
What are the voter's expectations on getting the truth on her condition and prognosis? What information are we entitled to get?
It seems that maybe are only resource within our control is to vote for or against her if we don't know the truth about her medical condition.
Most likely against, unless you want Kaine as president.
She is getting better medical care than anyone of us from Obamacare.
pneumonia, the leading cause of death by natural causes. I thought for sure it would have been a different reason that I stated above.

Pneumonia was a reach, especially with her better in a few hours.

---
She was reported to have stumbled, but the fainting part was unconfirmed. Of course, the fake-stream media such as Daily Caller is stating it as fact that she fainted when it hasn't been proven, yet.
Nobody really knows if she fainted. Thus, it's better to be on the side of caution. What I can say about having walking pneumonia is that it can drain you if you don't get any rest.
I saw video, if not fainted was blind. I used to faint a lot when teenager because had normal/low BP of 113/63. First you see light sparkles. Or go blind while standing trying to make it out of the room to pass out in the bathroom, (no I wasn't drunk

---
2 answers hidden due to negative feedback. Show
2 answers hidden due to negative feedback. Hide