sort by best latest
Very rich Americans complain about Corporate taxes 35% being the highest in the industrialize world. What they don't say is that American tax laws can be manipulated by the rich to the point where the rich pay less than all other industrialize Nations, to the point of paying no taxes at all. The middle class can write a small portion of their taxes off and the underclass can't not pay state and local taxes. Everybody pay taxes but the rich pay less then they could or should. Trump know what he is saying and who he is talking to, the misinformed people think he will cut their taxes also. That would never happen, because somebodies have to pay taxes and if they won't we the people will.
I have mentioned the various ways companies 'manipulate' their way to lower taxes.

It is perfectly legal for a company to register in a low tax nation or to park their income offshore.

---
Could you provide an authoritative source that states that Donald Trump wants to lower taxes to 15%???
Donald Trump wants to lower Corporate Tax, possibly to levels where most other countries are levelling corporate taxes(25-28%) which makes a lot of sense.
At 35 %, American companies pay one of the highest Corporate tax rates in the world. For that reason, many American companies have incorporated elsewhere(Apple ,Google, Amazon) or moved their headquarters to low tax nations .
If the current high tax regime continues, basically, no mega American corporation will be paying tax in the United States thus it is better to lower the American corporate tax rate so that more companies can pay taxes in the US.
Donald Trump at least understands that.
P.S. While American corporates pay high taxes, Individual Americans pay lower taxes than their developed counterparts. Scandanavian countries and France pay in excess of 40% of their income in order to maintain their economic systems
GOOGLE it ~ There are SEVERAL Reports which indicate "Delusional Donald's" Scheme to SLASH Wall Street / CORPORATE TAXEs so "WE the PEOPLE" can "FOOT the BILL" ~ It's the SAME Old "Republican SCAM" to SHIFT OUR Wealth Away from "WE the PEOPLE"

---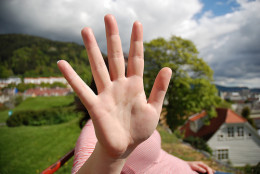 No matter how hard Trump is trying.......he ISN'T going to win the presidential race. He is falling & falling fast. The Republican Party hates & are distancing themselves from him. He has gone through myriads of advisors who are sinking him politically. He has disreputable characters e.g. Don King who are "endorsing" him in a bid to make himself some more presidentially desirable.
Trump is grasping at straws. He is sinking. No need to worry about Trump. Go out & have some sushi garnished w/akura & some sake. After that, take in a good movie or play. I hear that the new Rachel Weisz movie is excellent. Trump is going nowhere &......FAST. Hell will freeze over before Trump wins-the American people aren't that clueless nor stupid to let Trump win. OH HELL TO THE NO!