sort by best latest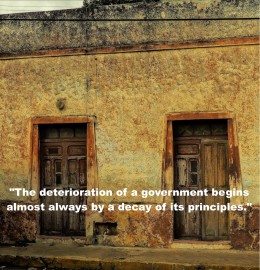 Funny how people twist words.
Submissive - accommodating or obedient.
You swear on hubpages or abide by the rules? You post nude pictures or are you obedient to the rules?
If you abide by the rules you're "submissive".
You work? Your boss tells you to be at work at 8 AM. You arrive at 7:45 so your sure your not late. You are "submitting" yourself to rules. You're submissive
Women want free abortions - which is fine with me. But then they ask the taxpayers to pay for it. How is it "free" if it has to be paid for? If it has to be paid for, it's not free. Silly twists on words that no one seems to be able to comprehend.
Americans say they're "free" but in reality there's not one thing you do on a daily basis that does not have the stench of government on it. Food, clothes, water all have government regulations on them - and you "submit" to those.
All the church is saying is that the women should obey rules, just like they ask men to do. Churches feel the man is the head of the household.
You ever been in the army? Ever see a private tell a general what to do?
You work for someone? Who sets the rules? The employee or the boss?
Someone has to be the leader in any "family".
And you know, you can always NOT obey. God also says you have a free will to quit at anytime you don't like the teachings - that's also taught in churches. Wonder why that's never talked about?
So, your premise for the question is wrong.
Read the story of Jackie Robinson. He was asked NOT to fight. To obey the owners request JUST to play ball, and NOT fight. And he "submitted" to the request. Did that make him less of a person or a better man?
Any "great" person submits. Either to a set of habits, a set of self imposed rules or tasks that lead to a dream. Anyone how doesn't 'submit" is probably living a mediocre life.
When one "submits" (is obedient ) to "rules" (guidelines") this leads to harmony.
No different than the laws telling you you can't steal, you can't lie to police during an investigation, etc.
Don't like the rules of the church, don't go to church.
That's a word salad that says yes, women must submit to men- bc rules. You really believe that your god made women inferior? And why is that? Might it have something to do with a rib?

You didn't refute my assertion, you simply tried to justify.

---
An answer to your 'Question' is surely yes. Who's to stop them especially in our nation?
The supplemental of the question is a whole different matter offering debate. In that regard I have a difficult time deciding what is meant by 'Many'?
BTW . . . The question is a great direction for a Hub. Anyway . . .
Today many denominations have ordained women ministers and women are within church leadership. Some examples are American Baptist Church, Episcopal Church, Evangelical Lutheran Church, Presbyterian Church, and many more. However, those are protestant. The Catholic Church does not have women as ordained priests. But, women are within leadership positions.
The Bible honors and raises women up as leaders, teachers and prophets? For example there is (OT) Deborah, Miriam, Huldah, and Ruth. Paul (NT) points out Phoebe referring to her position as a Deacon (Teacher / Leader) in the church (Romans 16:1-2). He mentions Junia (Romans 16:7) as an apostle. Anna (NT) was a prophet (Luke 2:36).
There may be 'debate' with meaning of Paul's pastoral letter (Timothy 2:11-15 – role of women) to the Ephesian Church. Consideration is there is not agreement Paul authored the pastoral letters today. Beginning 200+ years back it is suggested they were written well past his death while some suggest should not be cannon text. There is not disagreement Romans was authored by Paul and Luke by Paul's companion Luke (Traditional view).
Alas, again, in final analysis it is a matter of personal acceptance, trust, and faith for a belief if a church is a Christian Church regarding the roles of women and what they are.
'Some' resources:
Women in the Bible: http://rachelheldevans.com/blog/mutuality-women-le...
Women Prophets: http://stronginfaith.org/article.php?page=90
Ordained Women: http://www.pewresearch.org/fact-tank/2014/09/09/th...
Debate of Junia (Male/Female & Type of Apostle): https://carm.org/junia-apostle
Debate pastoral letters authorship (Cause – Women's role in ministry / Question – should they be canonized?):
http://helpmewithbiblestudy.org/11Church/TeachWhoA...
https://cognitivediscopants.wordpress.com/2011/12/...
http://www.bloggingtheologically.com/2011/11/10/do...
Who wrote Romans: http://www.christianitytoday.com/history/issues/is...
and how does rejection/acception of Paul's letters jive witih

And if anyone removes any of the words from this book of prophecy, God will remove that person's share in the tree of life and in the holy city that are described in this book.

---
Could you elaborate on control women's bodies and treat women as property?
Wow, Ms. Diane,

You'd be an interesting person to interview.

You've lived through a lot and still maintain your poise and grace.

If you'd ever be interested in being interviewed, let me know!

Keep up your good works!

Cheers

---