sort by best latest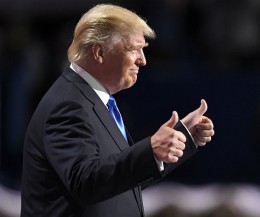 Donald Trump, according to the latest polling, is ahead in states with 230 electoral votes and is tied in five states with a combined 54 more, giving him a potential haul of 284 votes — 14 more than he needs to win.
And that doesn't count Florida where RealClearPolitics.com shows Hillary clinging to a 1.2 point lead.
Trump is ahead in all the states Romney carried (including Indiana and North Carolina) and in Ohio (18 votes) and Iowa (6). He is tied in Pennsylvania (20), Michigan (16), Nevada (6), New Hampshire (4), and Colorado (8).
And he could still carry Florida and has an outside shot at Wisconsin.
All this with the main stream media shilling for Hillary all the way, ignoring stories that could hurt her and attacking anyone who reports stories that could harm her.
+1, It's not a typical election so I'm hoping to polls aren't picking up the full support Trump has because of the enthusiasm gap and the beating Trump has taken in the media.

---
I'm still sticking with my original pick:
HRC 323
DT 215
As to the Battleground states, I'm giving DT Ohio, Iowa and Arizona (not sure if that qualifies as a swing state but it's close). I'm giving HRC Fla, NC, Pennsylvania, Nevada and New Hampshire.
But I'm increasingly unsure about NH. Regardless, it would not be enough to shift the election.
I'm thinking the momentum and enthusiasm favors Trump in Fla, Nev and NC but its tough to guess because of so many undecided voters

---