sort by best latest
There is nothing wrong with being single in my opinion.
Awhile back I asked the question: What does "single" really mean?
1. Some people take it to mean you are unmarried. (This is the "legal definition" on forms and applications)
2. Others took it another step and said it means you are not in a "exclusive relationship".
3. Still others said it means you are not dating anyone period!
Technically all 3 could be considered "single" depending on one's point of view. Being a male I can't say we experience very much pressure to get married or have children outside of possibly parents or maybe a woman who has been dating a guy for a couple of years.
As for casual sex some people view it as having sex with people you care nothing about. Others see having sex under the scenario of "friends with benefits" as being different than casual sex. In fact it is not uncommon for some seniors to (get together) with a "friend" from out of town a couple of times a year over the course of many years and they don't consider it to be "casual sex".
I've also known women in particular who choose to have sex with exes when they are in between relationships. Psychologically they feel that as long as they are not increasing the number of people they've had sex with and this person is not "someone off the street" it's not really "casual sex".
When it's all said and done no one should be judging anyone's lifestyle choices. Life is a (personal) journey. Each of us is entitled to live life on our own terms. If you're happy that's all that matters!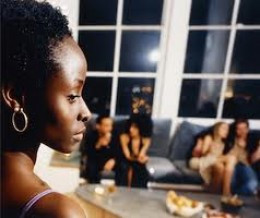 Even though being single is more accepted in this society than ever, there is an underlying stigma against being single in this couple obsessed society. This society subconsciously perceive single people without children as failure. The societal goal is still being married, preferably with children. Single people are continuously being exhorted to be in a relationship, rather married, committal or noncommittal. If a person elect to be single and do not want a relationship, he/she is viewed as someone suspect. He/she is viewed as a societal pariah. The thought is what is wrong, "most people want a relationship".
Also single people in this society are viewed as irresponsible and immature. To many in this society, the parameters of being a grown up is to be in a relationship, preferably married with children. If not, at least be in a relationship-that is the general opinion. Married people in this society are oftentimes viewed as the authentic grown ups while single people without children are viewed as puerile and/or arrested adolescents "who have not grown up".
This pressure to be in a relationship, preferably married with children, most affect single women. Women are inculcated since childhood that she is not complete unless she is in a relationship. Many women are told that they must have a significant other in their lives in order to be considered whole and/or worthwhile people. Although single women without children are more accepted, there is an underlying construct that the idea situation for women is to be married with children.