sort by best latest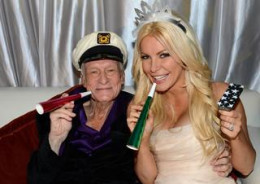 I believe our society is oftentimes too judgmental of others. Not everyone is blessed with the same gifts, talents, or mental capacity. Knowing your strengths and weaknesses are key.
Long ago I had an instructor who stated: "Intelligence is the ability of an organism to adapt to it's environment." Or in the words soul singer James Brown; "You have use what you got to get what you want." This is the strategy the trophy wife uses.
Essentially there are two ways get the lifestyle that we covet: We either earn it ourselves or we find someone who is willing to share such a lifestyle with us. As long as both people are happy with what each other "brings to the table" who are we to judge or criticize?
Not long ago an 86 year old Hugh Hefner (founder of Playboy Magazine) married a 26 year old former centerfold model. Naturally there is immediate speculation about their union. Clearly the average 26 year old is not attracted to the average 86 year old person. It's also clear that a man who has run a successful business enterprise for many years is not delusional enough to believe that if he were broke or living the lifestyle of the average person his age the marriage would have taken place.
Many of us actually (envy) the "lotto winners of life" whether they hit the jackpot by selecting the "right numbers" or get married to someone who is rich. We may say, the old man is a "fool" and the young lady is a "gold digger" but both have gotten what (they) wanted without breaking any laws.
The ultimate goal in life is to be able to live your life the way (you) want to! The fairytales usually end with a prince or a knight who sweeps a young beautiful but disadvantaged woman off her feet and they live happily ever after. We applaud this "romantic ending" in books and movies but we're very cynical about it when we witness it in reality. A strange irony indeed.
Porno caused all this mess for women. The last birthday card I got from my ex wrote, "thank you for being my trophy wife".. Oh the joys!

---
A spontaneous response is sad. I feel with a moment of thought usually that attribute is given by an observer and certainly that is quite naturally discovered with today with its popularity. I feel it may represent two or more thoughts. Trophy wife is a label and not a lifestyle. Next it is assigned as an action of jealousy rather than envy. Another is being the result of comparison and a justification for jealousy. It is fluid and dynamic not always present.
The lifestyle of a trophy wife is the imagination of the observer and not the knower. Maybe without oddity the knower may be an observer and rarely will the observer be a knower. A puzzle? It comes down to what a person is compared with to receive the label long before knowing the lifestyle. I know of many labeled as a trophy wife that really are pretty good moms and that is the lifestyle choice.
You have mentioned helpful points here ''Trophy wife is a label and not a lifestyle,'' and ''I know of many labeled as a trophy wife that really are pretty good moms and that is the lifestyle choice.'' thank you

---
I have this problem, big problem with the word "trophy wife". I blame Hollywood once again for making men think this is the way we hard working women want to live. I worked in the beauty business for over 12 years and now that I am older I could care less about what people think I should be. I have never had surgery and I believe all women are beautiful. I am insecure with my body and have often wondered that if I got bigger breast it would make me happy, but really all that pain for what? No one deserves this kind of lifestyle, it is a choice, whatever makes women feel valid and accepted should be motive enough. Marriage is for raising children, not for a man to pay his way so he can show off his "trophy wife" like some new sports car. I call madness!
Your answer say it all and you are right trophy wives certainly have lots to deal with and should not be addressed in such a manner. Marriage is a big step and should be treated with respect. Thank you

---