sort by best latest
Maybe it is, but is that a bad thing? One should always be able to think critically about all information and beliefs they have.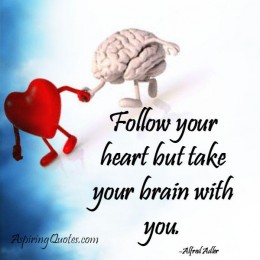 I wouldn't say passion is "tainted" by critical think.
The reality is we've learned that fairytales make for great books and movies. The old belief that falling in love has to come about via random luck or chance rather than figuring out who (you) are and what it is you want/need in a mate does not square with some folks.
For a lot of people passion is suppose to be this wild unbridled spontaneous "follow your heart" and (see what happens) unpredictable "manic" experience.
They want to allow "impulsive connections" and "happenstance" to dictate their relationship choices. Lack of "drama" bores them.
Ideally with age and experience comes wisdom.
There is nothing like experiencing a broken heart or choosing the wrong mate to get one to start doing some serious "introspective" or critical thinking about their mate selection process and relationship choices. "Sometimes you win and sometimes you learn."
Never separate your mind from your heart when making relationship decisions. The purpose of the mind is to protect the heart.