sort by best latest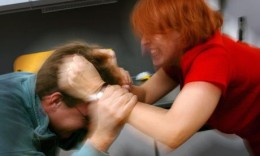 I suppose there are lots of variables such as are you a woman or a man, your physical size, strength, and if the abused woman is fighting back. Is your cell phone handy to call 911? Are there others around to (help you) in the event the abuser attacks you....etc
Do you have access to an object or weapon of some kind?
Other factors might include; is he pushing her, slapping her, beating her with an object of some kind, or did (she) initiate it with the first blow or slap and he's retaliating. If so they may be a volatile couple.
Bystanders only have "seconds" to make a snap decision.
One's own mindset and actions also vary from day to day.
There's a major difference between life and a hypothetical situation.
Most heroic actions are done (without a person thinking) first.
That's a tricky question. How do you know she's abused? Did her abuser do something to her in front of you? As a complete outsider how do you know her injuries weren't the result of an accident? However, even if you know for sure the woman is the victim of abuse, approaching her could be a mistake. If you say something to her, she may feel the need to deny any abuse and defend the abuser. What have you accomplished? You've angered and embarrassed her and backed her into a corner. Words are not the answer in these situations. You need to casually pass her and give her a calling card from the local shelter. If she wants your help, she'll stop you. If she doesn't, she'll either throw the card away or keep it and call when she's ready. That's the key, when she's ready. You can't help people who don't want to be helped.
Not that simple everyone's situation differs. Pulling someone to the side and asking if they are OK is not bad. As we remain silent they die some want out and don't have the resources not every town has a shelter. Thanks for your thoughts.

---