sort by best latest
Intolerance, and from the quotes of Quran spread on various websites, it is apparent that woman has got inferior staus in muslim society. What taliban did to women in Afghanistan is quite derogatory and condemnable. It is also a fact that Muslims in general are fundamentalists and do not like change easily. In fact, they assume their religion as the best. Muslims need to be a little bit open as an international society. It is also seen that muslims do not participate in open debates on websites like other societies. The whole impression of muslims seems to be as rigid and narrow-minded persons. But honestly, I do not know the practical side of lives of muslim women in other parts of the world. Sadia, I am convinced that if Muslims shed off their rigidity and bigotry, Muslim society is the best in the world, quite unparalelled and a role model.
A group or religion that is misunderstood due to a minority of said people who believe that in doing bad things they are bringing honor to their families. Not all Muslims believe that waging war is right, but that is how I think allot of people see them.
Do you watch Doraemon? I remember the character Gian, when I hear the word Muslims. Rest is understood, I guess.
The conflict between Christians and Muslims will always pervade as long as mistrust exists over the two great Religions. A call for serious dialogue to fleece out differences is a requisite for peace
keep reading →
|
0 comments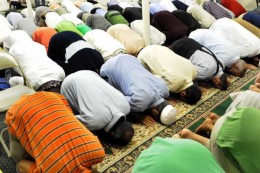 The first thing I think of is a mental image of men kneeling and praying in a mosque. I think that this scene is used a lot in the media.
The loss of hope in the development of the psyche of Mankind. Then again that is how I feel about most religions. I also think about an ancient Sumerian word, Alla, who was believed to be evil.
I think of the sound of prayer call, which I heard five times a day in the four years I lived in a Muslim country. I met many devout, beautiful women who were simply good people. Unfortunately, they are not the ones who make the decisions in that country and most other Muslim countries. Those decisions are what has turned so much of the world against this religion.
assalamu alaikum
When i hear muslims i'll say Ya ALLAH,
bless us the understanding,
no doubt, we have the understanding we can understand,
but we don't want to understand, and
that is true,
because we are in love for this world (duniya),
we switch off the volumes of our TVs & transistors during Adhaan (Azaan, call for prayers),
but we don't have time to go once a day to the mosque.
Verily, there is not a man who does not have any problems.
Ya ALLAH,
You are Raheem,
You are Karim,
You are Rehman,
You are Baseer,
Ya ALLAH, Ya ALLAH please bless us all (muslim ummah),
Aamin.
The first thing that come to mind when I think of Muslim is "Something I don't know the 1st thing about" until we truly understand Muslim, there is no way we could find a good resolution to the current issue in the Middle East. One of the main reason George Bush's campaign was a disastrous, was because his policy was bad. The US and its ally soldier are not at fault here, they are doing an outstanding job, in fact they never lost a single battle against insurgents. The main reason George Bush's campaign is a disaster is because not only do he not understand the Middle East, he have a lot of prejudice towards the Middle Eastern world and towards the Muslims. In government, Bush is not able to listen voice different from his prejudice view, as a result, experts within the CIA, who have years of experience and understanding towards the Middle Eastern issue and the Muslim faith, was been cast aside, because they contradict Bush's prejudice, as a result, Bush's adviser on the issue was also a bunch of people who don't know the first thing about the Middle East and might even have prejudice.
Thing become better in the Obama era, because Obama come from a Muslim background, so himself understand the Muslim and Middle Eastern world and has no prejudice. As a result, he is able to listen to the advice of those Middle Eastern experts, previous been cast aside by Bush and eventually those people who don't know what they are doing, are replace by those who know what they are doing, by Obama and they help Obama think of how to reform the strategy to better deal with the situation. Unfortunately, Obama is still not good enough to totally resolve the issue. But at least he managed to quarantine the problem to a geographical area and once that is done, now he can starve ISIS out of the war and weaken them by area bombardment. When Bush was in charge, things just seem to be getting worse, by day, everyday
Several things come to mind when I hear that word - my friends from college who are muslims, the muslim women dressed in the head and face veil and burqa, the honor killings, stonings, beheadings, suicide bombers, genital mutilation of female children, sharia law, 9/11.....far more negative than positive I'm afraid.
i don't have anything against muslims as people but the religion is what bothers me. Canada is becoming more and more popular to muslims and i no we are going to pay for it. every country where the population of muslims grow ends up having riots, bombing etc with no exception. they are already starting to demand new laws here and it pisses me off. i know a few muslims and they are nice people but like i tell them, the religion is one of the worst things to ever happen to the human race.
I studied Islam at a major university years ago, so I am not coming from an ignorant position. I know there have been many beautiful things brought into the world by these people and they have rich traditions and a diverse culture.
Having said that, what comes to my mind when I hear the word "Muslims" is religious zealots who believe in evangelism at the point of a blade.
I know that sounds a little harsh, but I also think it is historically accurate.
Please know that I never would have volunteered this information if you hadn't asked for my honest opinion and it is not my intention to offend you or the Muslim community in any way.
Let it also be known, despite my gut reaction, that I have never been mistreated by Muslims nor have I ever engaged in any hostilities toward them and I hope we can continue to live in peace.
People in parts of the world where Islam is a tradition, and people have not had the audacity, the courage, or the intellect to challenge what is written in an ancient book of Arabian myths. Or are obliged by the laws of apostasy not to question such myths.
Muslims are though going down the same road as Christians went down until the coming of the enlightenment in the 18th century. The same criticism about people following myths can be applied to all belief systems (the Christian Bible has many passages that are violent and pre-medieval, but these are simply not practised any more). Check the aftermath of the Lisbon earthquake in 1755 to see what this involved.
If you are referring to November 1, 1755, Earthquake in Lisbon has nothing to do with Christian and Muslim conflict. Portugal is a bastion of Catholics faith, yes, it did strengthen their faith since people perceived it as divine punishment.

---
When I think of Islam I think of a peaceful religion that has gotten a bad wrap due to some fanactics. Islam had Bin Laden America had the unibomber and Timothy McFay.
What comes to mind is outrage, but it is the same outrage that comes to mind when I think of Jim Jones in Guyana or David Koresh in Waco, and that outrage is based on the anger that there are still people who claim to have knowledge of things that are totally impossible for humans to know, like who god is and what god wants us to do, and yet there are billions of people who believe them and follow their lead.
The answer to intractable human problems is not touching one's head to the floor a prescribed number of times, making the sign of the cross, or knealing at the alter and repenting sins. Only human actions can address human problems.
The sooner we abandon hope for miraculous soutions, the better off mankind will be.
1 answer hidden due to negative feedback. Show
1 answer hidden due to negative feedback. Hide